Bi-Courtney Highway Services Limited, concessionaire of the Lagos-Ibadan expressway,  has begun reconstruction, expansion and modernisation of the 105-kilometre road. The  company rolled its equipment onto the highway on Friday 26 November. And as Chairman  of Bi-Courtney Group, Dr. Wale Babalakin told editors in Lagos lastnight, there will  be no stopping work on the project until it is completed from the Lagos end at Ojota  to the Ibadan toll gate. The ambitious project is not expected to exceed four years.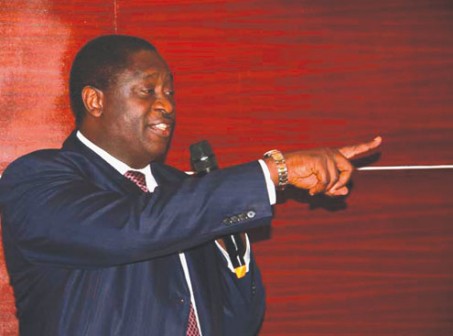 The Federal Government approved concessioning of the delapidated 32-year old  expressway to Bi-Courtney in April last year in what marked the take-off of its  policy to concession federal highways to private operators. The agreement between  the two parties was signed on 26 May, 2009. By the agreement, Bi-Courtney will  reconstruct, modernise and expand the expressway under a build, operate and  transfer, BOT, arrangement spanning 25 years. The new-look highway is expected to  have two additional lanes on either side and lighting between 7p.m. and 6a.m., to be  provided through a gas-fired plant.
The concessionaire is also expected to provide certain services and facilities that  will improve safety and security of motorists and other road users. The facilities  include controlled rest areas with eateries and conveniences, clinics and emergency  ambulances, emergency communications equipment, electronic traffic control and  enforcement measures and flyovers and pedestrian bridges at designated locations.  There will be parking areas for heavy vehicles and a special one-stop parking plaza  where all road users can satisfy their shopping, eating and relaxation needs.
Bi-Courtney will be wholly financing the reconstruction project, expected to cost a  minimum of N90 billion. It will recoup its money mainly from tolls and from  secondary avenues like advertising and the right of way mandate. Babalakin disclosed  yesterday that there will be four toll plazas on the entire stretch to be located at  the two major entry and exit points in Lagos (Ojota) and Ibadan and the Sagamu  interchange and Ogere.
He admitted there would be challenges of traffic management on the highway while the  road, notorious already for traffic snarls, is being reconstructed. The Bi-Courtney  chairman, however, said the company will be deploying traffic managers at strategic  points to ensure there is minimum discomfort to road users. "We are taking the issue  of traffic management seriously and are making every effort to see motorists and  road users generally do not suffer unnecessarily while we work there," he promised.
There will be no total closure of any part of the road at any point in time. Rather,  as Babalakin explained, a lane or two on either side of the highway will always be  made available for motorists' use while Bi-Courtney's plants grind on on the portion  under construction. He appealed for understanding, patience and sacrifice from users  of the road during the project period, as a holistic mend of the road now would save  a lot of lives and enhance social and economic benefits in the long run. He assured  that even before the third quarter of next year, Bi-Courtney would have fixed all  potholes on the expressway and relieved users of the agony and dangers they  currently experience plying it.
Babalakin identified the two major causes of traffic gridlock on the road as the  religious bodies which have located their worship centres along there, and oil  tanker drivers who either park their vehicles on the shoulders to reduce the road  width or are regularly involved in accidents that seriously impede vehicular  movement. The concessionaire's traffic managers have been meeting with these bodies  who, the group chairman said, have been co-operative.
—Tayo Odunlami
Copyright protected by Digiprove © 2010 P.M.News
Load more