A quack Nigerian doctor who has been treating patients in South Africa for four years is now on the run after law enforcement agents tried to arrest him, reports the Independent newspaper based in South Africa.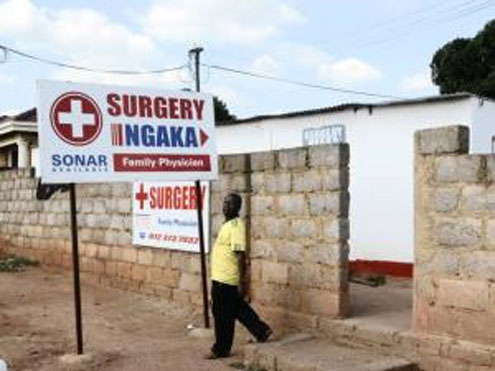 According to the newspaper report, for four years, hundreds of patients visited the "surgery" of Dr. Jack on the corner of Thindisa and Mngadi streets in Attearidgeville, oblivious to the fact that the "good doctor" was an alleged Nigerian quack.
For this long, the Nigerian doctor had operated without being detected by the Health Department and the country's law enforcement agencies.
Dr Jack, who escaped minutes before police raided his surgery, is one of 17 from across South Africa being investigated for operating as part of an alleged syndicate using the practice numbers of two Nigerian doctors believed to be qualified.
He is wanted on charges of impersonating a doctor and indecent assault.
Six of Dr Jack's co-accused appeared in the Middelburg Magistrate's Court on Tuesday after they were arrested last week in a string of raids across the country from Limpopo to the Western Cape.
Two of those arrested are apparently genuinely qualified doctors, while the remaining four are alleged quacks. The raid on Dr Jack's surgery has left the community angry and demanding answers.
Piet Mosana, whose sister Jafthalina owns the property on which the small surgery building is built, said they were shocked.
"When the police came we did not know what was happening. We wanted to speak to the good doctor, but he had disappeared. All the police would tell us was that Dr Jack was a fake doctor."
Mosana, whose family had an uneasy feeling about the doctor when they first met him, said none of them had ever gone to him for medical help. "There was something strange about him. It was a feeling I had. He was friendly and nice, but I didn't feel safe going to him when I was sick," said Mosana.
The doctor had treated people with HIV and Aids, high blood pressure and diabetes, and had delivered babies, he said.
Jafthalina Mosana said people would queue outside her property to see Dr Jack. "There was always a long line of people. They would come here because his medicine was cheap. He would charge R180 for everything, even for a sick note.
"People came here because it was easier than going to the nearby clinic or Kalafong Hospital, where you could spend the whole day waiting for help. But, people were always complaining, with some coming back two, three or four times a week because they were not getting better."
She said people were still coming to her house every day looking for the doctor.
"They come asking for help. When we tell them what happened, they get worried because they do not know what medicine he gave them."
Lance Corporal Thabo Thobakgale's family is one of those who are worried about the medicines given to their daughter and niece Angelina. "We brought her here because he was close to us and it meant we didn't have to wait in long queues at the hospital or the clinic.
"We got medicine for Angelina, but she didn't get better. She got worse although we took her back for more medicine. It was only after we took Angelina to Mediforum Hospital that she started getting better."
For Thobakgale and many others who sought medical help from the 17 doctors now being profiled by the Board of Health Care Funders as part of a probe into the alleged syndicate's activities, the fear of what medicines they received and what the doctors have potentially done to their health is very real.
"How do we know if we have not been poisoned? They could have given us anything and we wouldn't know the difference."
Load more