Whitney Houston's daughter is apparently following in her mother's troubled footsteps after being photographed snorting a white powder said to be cocaine.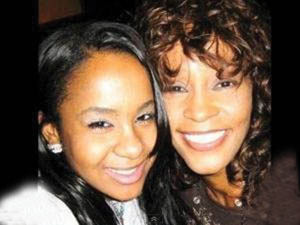 Bobbi Kristina "Krissi" Brown, 18, is well aware of the dangers of drugs. Her mother's career was blighted by addiction and her father, singer Bobby Brown, has also needed rehab treatment.
Yet the teenager's former boyfriend, who took the pictures, claims she too is addicted to cocaine.
"I've tried to stop her," he said. "But all she said was, "I'm just like my mother!".
"Whitney needs to see what her daughter is doing to herself. If Krissi doesn't stop soon, this addiction to cocaine will kill her."
Krissi, an only child, celebrated her 18th birthday on Friday and was still 17 when the pictures were taken at a friend's house in the town of Alpharetta, Georgia, where she lives with her Grammy-award-winning mother.
An article in National Enquirer magazine claimed she regularly indulges in marijuana and "guzzles beer and gets smashed on Everclear, a potent grain alcohol".
Her unnamed ex-boyfriend claimed to have witnessed wild behaviour during a two-and-a-half-year relationship.
At one party, he said, "Krissi was pretty wired. I also saw her kiss a man and drink a 40-ounce bottle of Budweiser".
Krissi admitted that it was her in the photos – but claimed she had been set up.
On her Twitter page she wrote: "The pictures – a former very dear person to me did this. Set me up to make it look exactly what it looks like. God will smite them yes." Confusingly, she added: "But it's really not what it looks like -People will do anything for money which is extremely sad, and I'm very hurt by this."
Krissi said of her ex-boyfriend who sold the pictures that it was "a horrible relationship that went sour. I was in love – he was in love with money. I've learned my lesson."
She added that her mother had been supportive during her recent troubles. "My mom just comforted me to the max and I'm so thankful for her."
Whitney Houston, 47, has won more awards than any other female recording artist. In a 2002 TV interview she admitted abusing drugs. But asked if she was on crack cocaine, she said: "First of all, let's get one thing straight. Crack is cheap. I make too much money to ever smoke crack."
Copyright protected by Digiprove © 2011 P.M.News