A 22-year old love struck girl has committed suicide. The deceased, identified as Olaitan, a native of Abeokuta, until her death, stayed with her parents at Alfa Rasheed Street, Araromi Oke-Oja, Ifo, Ogun State, Southwest Nigeria. She killed herself because her parents blocked her romance with her boyfriend.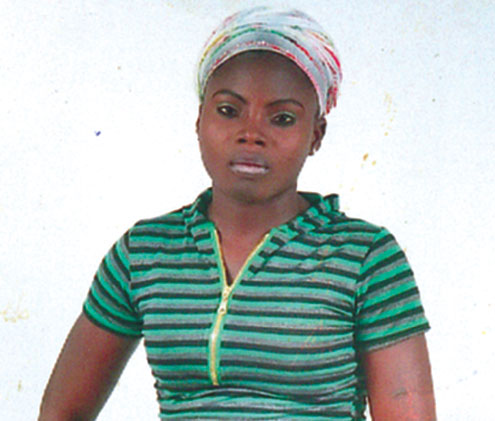 P.M.NEWS investigations  revealed that the deceased and her boyfriend, Dare Abiodun, 24, had been dating for seven years and that in 2007 they lost contact and later met again four months ago.
When the parents of the deceased saw their daughter with Abiodun, she was warned not to harbour any thought of marrying him. The reply she gave her parents was that she won't marry any other man except Abiodun.
On Tuesday this week her elder brothers beat her up for hobnobbing with Abiodun and on Wednesday she tied a rope to a ceiling fan and committed suicide right in her father's house.
According to  Abiodun, "we knew each other for seven years and when she left for Lagos to learn how to sell provisions, we lost contact and about four months ago I was just passing-by her father's house and she called me and we started our relationship all over again.
"I then told her that I have a wife who is now pregnant but she said that doesn't mean anything and that she still wanted to marry me.
"When she came to me on Monday around 8.00 p.m. she told me of how her brothers were always beating her for insisting that I should marry her. I then said sorry to her because I saw bruises all over her body.
"At exactly 10.00 a.m on Wednesday I was at my master's place at Ifo where I work as a bricklayer when she came to meet me and she said I should give her the last kiss, that she loves me. I  asked her if we can't  marry again. She declined to reply and  left, saying she would want to go home to have her bath.
"On that same Wednesday in the afternoon my friends called me on my phone and asked me not to come home because my girlfriend had committed suicide. They said her family members came to where I live and threatened to kill me and they also damaged all my property. As at that time my pregnant wife was still sleeping and she managed to escape. I also learnt that her father brought charms (juju).
"I did not kill their daughter. Why are they doing that to me?"
P.M.NEWS further gathered that she committed suicide while her father had gone to the farm and her mother was downstairs. She had earlier drank acid from battery and when it was not effective she hanged herself.
Her parents buried her on the night of Wednesday without reporting the incident at the Ifo Police Station, Ogun State.
—Oluwole Adeboye
Copyright protected by Digiprove © 2011 P.M.News