It was not going to be another violence free Sunday in Nigeria as suspected members of the Islamist extremist group Boko Haram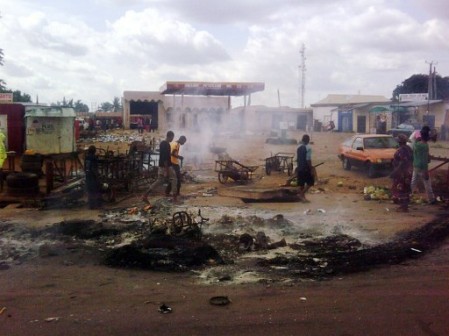 set fire to churches and border posts in Gamboru Ngala, 140 kilometres to Maiduguri, the capital of Nigeria's Borno state.
Residents said around 50 gunmen in cars and on motorcycles carried out the attacks on three churches and border posts with neighbouring Cameroon, opening fire on police and chanting Allahu Akbar, (God is Greatest), residents said. So far two policemen have been identified among casualties, according to residents.
Among the security posts burned were offices for immigration, customs and the secret police and a quarantine building.
"The gunmen believed to be Boko Haram were around 50 in number and came in cars and on motorcyles around 8:30 am and attacked the security offices at the border posts, burning them," a resident Modugana Ibrahim told the French news agency, AFP.
"They opened fire on the security personnel but it is hard to say if anybody was hurt or killed," Ibrahim said.
Another resident, Hamidu Ahmad, said the gunmen went into town "chanting 'Allahu Akbar' and burnt down the divisional police station and three churches".
It was not clear whether worshippers were inside the churches at the time of the attacks.
Today's attacks culminated earlier warnings by the militants of an attempt to impose a Taliban kind of hegemony on the town.
Two weeks ago leaflets were circulated decreeing that women were required to wear the Muslim veil and banning the sale of cigarettes, residents said.
"A tailor named Adamu was shot dead last week by some suspected Boko Haram members for making clothes for women the group consider obscene," said resident Hajara Umar.
Violence linked to the Boko Haram insurgency in northern and central Nigeria is believed to have left over 3,000 people dead since 2009, including killings by the security forces.
Talks about resolving the crisis by some negotiations have ended in mere speculations as the Nigerian government described the leadership of the militant group as 'ghosts' and 'masked' men.
Last week, two suicide bombers believed to be members of the sect struck at St Andrew Military Protestant Church in Jaji, Kaduna state, killing no fewer than 17 people, with over 27 others injured.
The military high command in reaction to the embarrassing bombing of its elite military formation sacked two commanders from the unit on Saturday.
Also last week, gunmen belonging to the sect, attacked the headquarters of the Police Special Anti Robbery Squad, in Abuja, freeing 30 detainees, and killing two policemen.
The police claimed they re-arrested 25 of the detainees.
.This report was updated at 7.10 p.m Sunday with reports about police casualties

Load more