The labour crisis rocking Nigeria's second largest airline, Aero Contractors, seems to have worsened, with the airline dismissing about a thousand striking workers, and the staff vowing that no plane will take off until they are re-employed and their demands are met.
Aero Contractors sacked the striking workers for allegedly violating a court injunction restraining them from embarking on strike, and the workers stormed the headquarters of the airline on Monday morning, saying they have the right to protest.
"Mrs. Seyi Emmanuel Oguntayo, I regretfully confirm that you are hereby dismissed from your employment with Aero Contractors Company of Nigeria Limited as Assistant Accountant with immediate effect," read one dismissal letter signed by Obaro Ibru, Aero Managing Director.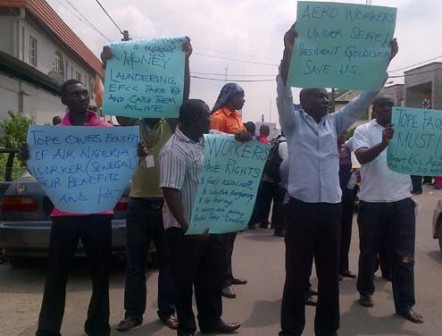 Aero Contractors had announced on Friday night that it was suspending flight operations indefinitely after it failed to reach an agreement with the striking workers.
"Following the strike action embarked upon by the staff of the company, the board and management have decided to suspend Aero's operations until further notice," Aero said in a three paragraph statement on Friday.
On Monday morning, Aero remained shut and workers sang and danced outside its offices while brandishing placards that read: "Aero workers under siege, President Goodluck save us"; "Workers have rights to freely associate;" etc.
The striking workers are claiming that Aero Director, Human Resources and Corporate Services, Mrs. Tope Fagbemi, is to blame for the crisis.
According to them, she has advised the management to transfer 42 drivers from Aero Contractors to a third party company named Remloyd Tours and Car Hire Service. She is also accused of reducing the negotiated and approved salaries of pilots and engineers, including allowances of the cabin crews without recourse to their unions.
"As we speak, all these striking workers, about a thousand of them, have been sacked," said Comrade Olayinka Olu Abioye, the Acting General Secretary of the Air Transport Services Senior Staff Association of Nigeria, ATSSSAN.
Abioye who participated in the protest, explained that staff work under excruciating conditions and they are now scared of being transferred to a third party company that may make life even harder for them.
He said workers are demanding the sack of Mrs. Tope Fagbemi and improved conditions of service, including immediate re-employment.
As Aero remained grounded and staff were still on strike, Dana Air was also grounded Monday and its management was holding a meeting with the Minister of Aviation, Mrs. Stella Oduah, in Abuja, the Nigerian capital.
Dana was grounded on Saturday without any specific explanation from the Ministry of Aviation, said Dana's spokesperson, Tony Usidamen.
Many passengers remained stranded on Monday morning as Arik Air, Nigeria's largest airline, was unable to cope with the volume of passengers.
"I am going to Abuja and I have been on the queue for almost two hours. I don't know how much it will cost but it is wrong for an airline to hold the country to ransom. It is wrong to allow only one airline to fly," said Frank Ejedoghaobi, a retired businessman.
According to another passenger, Thomas Bassey, air fares have skyrocketed by about 100 percent. "I'm going to Calabar and I have paid more than N36,000 for an Arik ticket. About two weeks ago, it was N18,000. But now even with your money, you cannot get flights," he said.
According to Charles, a passenger travelling to Abuja, getting a flight was difficult.
"I went to MM2 but I was told there is no flight. I don't know how much it will cost because I have never travelled with Arik before. But I hope to get a flight," he said.
—Simon Ateba