Princeton College (Princeton Girls in IT), a Lagos team, has won the Technovation Challenge competition in the African region.
In a statement made available weekend in Lagos, Mrs Martha Alade, the Chairperson of Women in Technology in Nigeria (WITIN), said that the team won in Nigeria and was also judged against teams across the globe.
"They are not only winners from Africa but competed against teams from China, Jordan and India, among others," Alade said.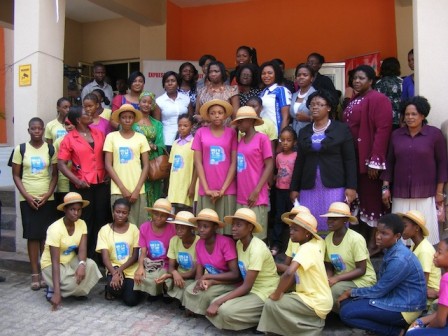 She said that the winning team was celebrated in Nigeria on April 25, a day designed as "The Girls in ICT Day''.
Alade said that the Lagos team of five young girls were selected as a Technovation Challenge 2013 finalist and have been invited to San Francisco, USA.
According to her, the team is to compete with nine other teams from around the world at the Technovation World Pitch event, taking place at Twitter Headquarters on May 1st and 2nd.
The finalists are Tek5 from United Kingdom, Solidárias from Brazil, Princeton Girls In IT from Nigeria (Lagos), Idea Fuze from Boston and Arise from New York.
Other teams are GeekChic from San Francisco, Innogators from San Francisco, Wildcat Watchers from San Francisco, NaviCar from Washington D.C., and Clements TechGirls from Houston.
She said the overall winners would receive 10,000 US dollars in funding and support to complete their app development and release it to the market.
WITIN unveiled technovation, a mobile application challenge in January, for secondary school girls in the country.
Alade said the initiative was part of the International Telecommunication Union (ITU) Girls in ICT project and Tech Needs Girls campaign.
She said that the mobile app challenge was opened for secondary school girls between the ages of 13 and 18.
The chairperson said that the girls worked in teams of fives to develop mobile apps, conduct market research, write business plans and create a "pitch'' for funding.
Alade said that each team worked with a classroom teacher at their school and a female mentor/role model from the technology industry.
"WITIN led mentors in Nigeria who guided teachers to train teams from January till April on how to build the apps.
"The training culminates in a global competition where teams competed for funding to launch their company and take their app to the market,'' she said.
Alade said the programme's goal was to promote women in technology by inspiring girls to see themselves not just as users of technology.
"But they should also see themselves as inventors, designers, builders and entrepreneurs in the technology industry," she said.
Alade said the girls were taught life skills, such as how to identify a problem, design and test a solution, collaborate with a team, and communicate to different audiences.
She said that the challenge had reinforced academic concepts, such as digital representation of information, algorithmic thinking and programming, and the societal impact of information and information technology.
The chairperson said that in the end the girls had learnt about collaboration, teamwork and important skills in the technology industry.
Load more