JETHRO IBILEKE/Benin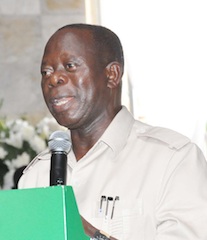 Governor Adams Oshiomhole of Nigeria's Edo state has presented to members of the Federal House of Representatives Committee on Works, the project design, contract award documents and evidence of payment to Reynolds Construction Company(RCC) for the construction of the controversial Five Junction in Benin.
The representatives visited him in Benin today.
The Minister of Information, Labaran Maku had claimed that the Federal Government was bankrolling the Five Junction road beautification as part of the reconstruction work on the Benin-Lagos road, a claim Oshiomhole debunked.
Oshiomhole described the controversy over the project as unnecessary, adding that he brought the documents to settle the issue once and for all.
He insisted that if the Ministry claimed it paid for the contract, Edo State should have its money refunded.
"If the Ministry of Works insist they did the work, it would mean they are claiming money for work they did not do and that will be fraud, Oshiomhole said, just as he called on the House of Reps to investigate the matter.
The Governor enumerated several Federal projects executed by the State Government and called for re-imbursement, even as he observed that the designs of Federal Road projects in the state were without provision for drainages.
He commended the House of Reps for its legislative activism, saying that the House was giving meaning to the principle of separation of powers.
He also commended the Committee for its oversight function and pleaded with its members to intervene in the Queen Ede Gully Erosion site in Benin which he said has wiped away an entire community.
Earlier, the Chairman of the Committee, Ogbuefi Ozombachi told the Governor that members were in the state to exercise the House's oversight function on some Federal road projects to ensure that Nigerians get value for money appropriated for projects.
He attributed the projects failure to the attitude of users and compromise on the award and supervision by the authorities.
Ozombachi disclosed that there was provision of N30 billion in the 2013 budget for re-imbursement to state governments.
He later led the Committee members to visit the Queen Ede Erosion site.
He also asked Governor Oshiomhole to forward the documents on the Five Junction project to the House for thorough investigation.
Load more