Abiodun Onafuye/Abeokuta
Alhaja Batili Alake, popular Waka creator and singer singer died today in her home at Ijebu Igbo in Ijebu North local government area of Ogun State, in western Nigeria.
The waka singer who was popular for about four decades till around early 90's gave up the ghost early today, after a protracted illness.
She was buried at exactly 4:20pm today at her residence in Oke Liyan area of Paroba,Oke Sopin in Ijebu Igbo according to Islamic rites.
"Mama was ill for sometimes now and in the last few days towards the of end of Ramadan,she was getting better until the illness relapsed again and resulted in death", said a female relation of the singer.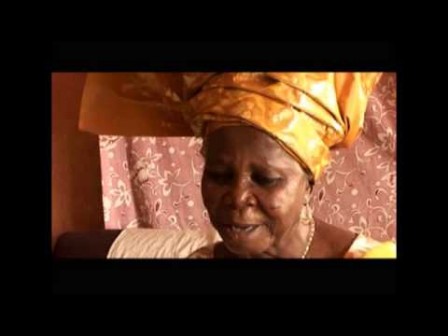 "We are surely going to miss her a lot and the music industry will also miss her. Some of the musicians have been coming to commiserate with us and theyhave been saying a lot of good things about Mama.May her soul rest in perfect peace", she added.
Alhaja Alake's true age is not known. But the consensus is that she died in her eighties.
The deceased was among the top musicians in the early years of Nigeria independence that performed for the government of the Western Region then.
Among her contemporaries then was Alhaja Kuburat Alaragbo and Madam Abeni Sewele, Haruna Ishola, Ayinla Omowura, Ligali Mukaiba and a host of others.
She popularized the Islamic-inspired, Yoruba genre by playing at concerts and parties throughout Yorubaland, and was the first waka singer to wax an album.
She also mentored the latter day Waka Queen, Salawa Abeni.
In an interview with a Nigerian newspaper in April 2012, she was asked how she wanted to be remembered. Her response: How will you like to be remembered? "As the originator of waka music, a good musician who preached the word and to be remembered for my hit tracks and my albums".
Have a taste of her music here: http://youtu.be/yHl9Bcx19vU

Load more