There was commotion this morning at Kotodayo community in Ota, Ogun State, western Nigeria, as a young man, simply identified as Sadiq was beaten to a pulp for allegedly being gay.
The incident happened at 1 Kotodayo in the Iyana-Iyesi area of Ota after Sadiq's friend, Ibrahim (surname withheld), allegedly raised the alarm declaring that his male organ had disappeared.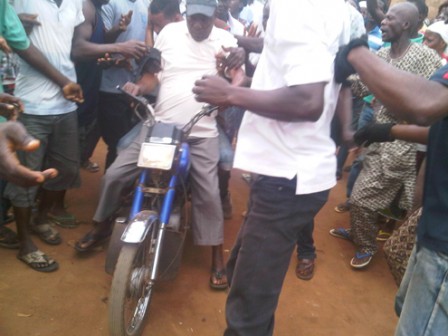 According to Ibrahim, who was seen naked before some men, Sadiq had paid him a visit last night and deep into the night, he began to have sex with him.
When P.M.NEWS visited the scene, Ibrahim's penis was of normal size, but he was making efforts to make it turgid as a proof that it was fully restored.
Ibrahim, who is also a squatter in the house, alleged that it was the first time Sadiq would be visiting him.
Though they have been friends for some time now, Ibrahim said he never knew his friend was gay until last night.
Sadiq, in a confessional statement to local vigilantes at the scene of the incident, said he has been homosexual for the past three years.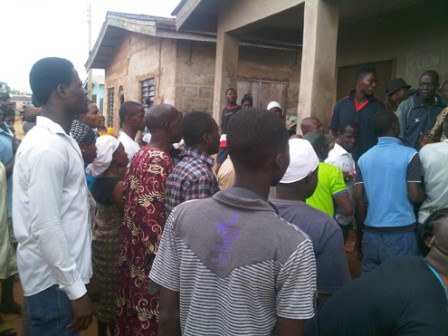 He denied snatching his friend's male organ, but said he had engaged only men in sex since then and further indicted a prophet whose white garment church is within the community as the one who prepared the concoction with which he engages in the act.
However, the prophet, who was invited by the vigilantes, denied the allegation.
He said he had known Sadiq as one who never chased after women and did not know that the man was gay.
Neighbours told P.M.NEWS that the owner of the one-room apartment where the incident occurred lives and works in Lagos and only visits the place at weekends.
Sadiq was later whisked away by the vigilantes after much plea to stop beating him was rebuffed by the people of the area.
Nigeria frowns at gay practice and recently passed a law that stipulates a 14-year jail term for offenders.
—Eromosele Ebhomele
Load more