Ayodeji Dedeigbo & Sulaimon Mojeed-Sanni
Two suspected members of Eiye Cult group have been arrested by a team of policemen from the Lagos State Police Command, Special Anti-Robbery Squad, SARS. The suspects said they were hired to kill five people around Alaba Market in Ojo before the police arrested them.
The two suspects identified as Ola Jimoh Sodiq, 28, and Ibrahim Oshilemo, 27, both indigenes of Lagos State, western Nigeria, were arrested in their hideout in Sabo Ajangbadi area of Iba Local Government Area of Lagos.
Following the killing of five persons by masked men around Alaba International Market in Ojo, detectives from SARS were invited to investigate the attacks which led to the arrest of the two suspected cultists.
The suspects allegedly confessed to have been paid to carry out the murders on behalf of people in the market.
According to Sodiq, who claimed to have been expelled from a university in Lagos in 2009, when he was in 300 level, for cult related activity, his involvement in cultism was to make ends meet.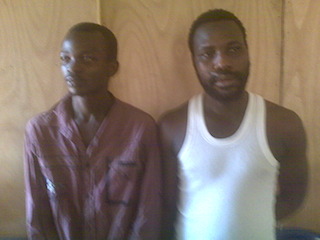 "We were often hired by politicians from the Local Government and Alaba International Market to help disrupt political opponents' rallies during electioneering period. I am only involved for the money, but at times people do get killed in the process," he said.
Sodiq, who is married and has three kids, said he used to mask his face during operations because most of his engagements are usually around his area so he needed to cover his face so that people would not recognise him.
"I cover my face during operations because I don't want people to recognise me. I got the mask when I was off-loading a container at Alaba International Market. We make use of locally made guns, which I bury around our compound whenever we don't have operations."
He added: "I regret my actions, because the Eiye Cult which Elebiti ( a fellow cult member) initiated me into has ruined my life."
Ibrahim Oshilemo on his part said, he is a secondary school dropout and resides at 10, Shonibare Street, Iba Town.
He claimed to have been forced to join the cult group while he was repairing handsets.
"I am a phone engineer but was forced to join Eiye Cult group. My wife is heavily pregnant now. I would never go back to cultism if I am spared from this," he pleaded.
Items recovered from them after their homes were searched include seven locally made cut to size double barrel guns, two masks, five live cartridges, charms among other things.
A police source, who pleaded anonymity, said investigation is still on going to track those that have been engaging the services of the cult group.
The source said after the investigation the suspects will be charged to court.