Former governor of Lagos State and one of the leaders of the All Progressives Congress, APC, Asiwaju Bola Ahmed Tinubu, has asked Nigeria's former leader, Olusegun Obasanjo to serve as a navigator for the party.
Tinubu made the call Saturday night, when a delegation of the party's leaders met with Obasanjo in Abeokuta, capital of the western Nigerian state of Ogun.
"You have come out of tribulation and held the highest position in this country. We are here because of your courage and salient points. Nobody can say he has information more than you,"Tinubu said.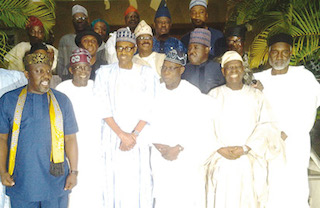 "You have surmounted a number of crises. Nigeria is divided more than before. To realise a stable Nigeria, we want to encourage you to continue to speak the truth. We have resolved and determined to rescue Nigeria. We want you to be our navigator", he added.
The interim National Chairman of APC, Chief Bisi Akande,also a former governor of the state of Osun, told Obasanjo: "We have come to introduce our party to you; we are in the support of the 18-page letter written to Jonathan, you are capable".
Imo State governor, Rochas Okorocha, who now chairs the 16 governors of the party urged Obasanjo to be upright on the issues concerning Nigeria.
" Many of the governors passed through your political school, the battle is for the generation on board. It is a task that must be done".
Obasanjo praised the APC for enhancing democracy in Nigeria through its reactions to issues, but also urged the party to play politics without bitterness.
Vanguard Online however reported that Obasanjo turned down the request to become a member of the party.
" I am a card carrying member of the PDP but the politics I play traverses Nigeria, Africa and the world in that order,"Obasanjo said.
" I am a democrat and one of the essential ingredients of democracy is opposition. A democracy that has no opposition built into it is not democracy.
"In whichever party, for whatever office that contested or aspired in Nigeria since 1999, such a person, young or old man or woman can claim to be my political child and I can claim to be by virtue of the political office I have held. I can also claim to be political father; so, you are here and you are welcome".
In attendance at the meeting, apart from Tinubu, Okorocha and Akande were former head of state, General Muhammadu Buhari; Alhaji Kawu Baraje,who led the breakaway PDP faction, former Borno State governor, Senator Ali Modu-Sheriff; Senator Bukola Saraki; Governor Murtala Nyako of Adamawa State, former Chairman of the Economic and Financial Crimes Commission EFCC, Mallam Nuhu Ribadu; and a former Minister of Aviation, Chief Femi Fani-Kayode. Governors Ibikunle Amosun (Ogun), Abdulfatah Ahmed (Kwara), Rotimi Amaechi (Rivers), Rabiu Kwankwaso (Kano), Babatunde Fashola (Lagos) and Senator Abiola Ajimobi (Oyo) were also at the meeting.
The APC was said to be planning similar visits to a former defence minister, General Theophilus Danjuma, Chief Alex Ekwueme, a former vice President of Nigeria and Alhaji Shehu Shagari, former president of the country.
The APC had also visited, former heads of state, Generals Ibrahim Babangida, Abdulsalami Abubakar and former vice president, Atiku Abubakar.
.with reports by Vanguard Online


Load more