Two children were burnt to death last night when a candle light razed their parents' home at 12, Adebari Street, Agege, Lagos State, southwest Nigeria, just as a graduate took his own life in Ikorodu on New Year Day because he claimed he was not allowed to marry his girlfriend.
The deceased kids were identified as Nosirat, 7, a primary one pupil of Starland Private School, Agege, while Basit, 5, was in nursery one of the same school.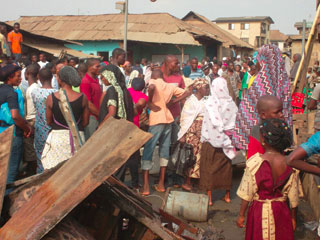 In a statement made available to policemen attached to Elere Divisional Headquarters, Agege, the mother of the deceased  children identified as Mama Nosirat, explained how the tragedy occurred.
According to her, "I am a trader selling kerosine and bread outside and after I had closed for the day I kept a 25-litre of Kerosine inside while I lit a candle and placed it on the freezer, since there was no electricity supply.
"My children and their father were sleeping and I then went to buy mosquito coil but before I returned the house was on fire. I saw my husband outside without the children and by then there was no way for me to go inside to rescue them."
One  of the landlord's children, Ganiyu Ayoola, 38,  a driver, who witnessed the incident, said: "I managed to run out with my wife and two children with only pant. These clothes I am wearing were given to me by Supol Fatoki."
Sakiru Ayoola, another of the landlord's sons who is a tricycle rider said: "I lost everything to the fire, including my N50,000 cash."
The burnt house is owned by Alhaji Isiaka Ayoola, 72, who resides at 5, Agura Road, Enu-Gada, Abeokuta, Ogun State.
He spoke briefly to P.M.NEWS about the incident.
"I feel sad about the death of the kids. I am in tears and not in the mood to talk further."
The school teacher of the deceased children, Mrs. Abdulsalam and her husband, Alhaji Hassan Abdulsalam, the Chief Imam of Atobaje Mosque spoke glowingly about the children. According to them, the children were brilliant and very hard-working. They were always clean and gentle. Their mother struggled to pay their school fees.
P.M.NEWS further learnt that the fire service men later came to put out the fire.
Residents besieged the scene and were seen this morning discussing the incident.
The DPO Elere, CSP Phillip Eze; Chairman Agege Community Development Committee, Alhaji Ayo Adesiyan; Alhaji Monsuru Adebodun, PRO, (CDC), policemen from Isokoko Division and Kayode Akinola, immediate councillor Atobaje Ward E, have all visted the family to sympathise with them.
Meanwhile, Ikorodu town, Lagos State, western Nigeria, was thrown into mourning on New Year day when a graduate of Architecture, Ogunsona Daniel Adekunle Adebambo, committed suicide by hanging himself in an uncompleted storey building.
The suicide is coming on the heels of the controversy surrounding the death of a mother of two, Mrs. Ibironke Sanni, 31, who allegedly committed suicide two weeks ago by gulping Sniper insecticide in Sholebo Estate, Ikorodu, over her husband's alleged infidelity.
The body of Adebambo was found around 1 a.m. yesterday dangling from a rope tied to the hook of a fan in an uncompleted storey building at 1, Alice Ogunsona Street, Hilltop Estate, Eruwen, Ikorodu.
P.M.NEWS investigations revealed that Adebambo, 30, studied Architecture at the Obafemi Awolowo University (OAU) and did his national service in Abia State.
The deceased was found by his younger brother after reading the suicide note he left in their sitting room.
He allegedly blamed his action on his girlfriend's father who refused to allow him marry his daughter.
A friend of the deceased disclosed that Bambo, as he was fondly called, killed himself because his fiancee's father, who is from Ondo State, said his daughter cannot marry him because he is an Ijebu man from Ogun State.
Many of the sympathisers who gathered at his residence found the excuse for his action difficult to believe.
Efforts to speak with his fiancee proved abortive as she refused to talk.
The atmosphere at the residence of the deceased in Eruwen was gloomy as family members, friends and neighbours wore sombre look. Two ladies found leaving the compound lamented the death of the man and disagreed with the note he purportedly left stating the reason for taking his life.
Efforts to speak with his brother and other family members were also unsuccessfual as they refused to talk to our reporter.
They threatened to send the reporter out of the compound and confiscate his midget and camera.
A resident of the Hilltop Estate, Ibrahim Adeola, who said he participated in bringing down Adebambo's body from the ceiling, recalled that he was dead and stiff when they brought him down.
"When the family raised an alarm and we came here, he was already foaming in his mouth and his hand was clenched in a fist. This signified that he struggled till he died," he said.
—Oluwole Adeboye, Yusuf Muhammed & Sulaimon Mojeed-Sanni
Load more