Nigeria's military on Tuesday blamed Boko Haram militants for a deadly bomb attack that killed at least 17 in a crowded market in Maiduguri, in the latest violence to hit the country's restive north.
Army spokesman Muhammad Dole said a Honda car laden with explosives detonated near the post office in the northeastern city, which was packed with people marking the birthday of the Prophet Mohammed.
"Members of the frustrated Boko Haram terrorists are suspected to be behind the bomb explosion," he said in an emailed statement, adding that there were "scores of deaths and injuries" and one arrest.
The police commissioner of Borno state, of which Maiduguri is the capital, earlier told AFP that there were at least 17 dead and five injured.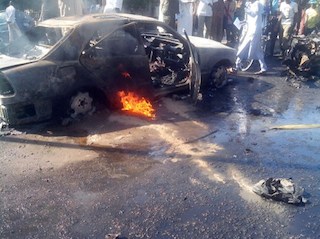 "These figures are likely to change by the time we get full reports from our men in the field," added Lawan Tanko.
A source at the Borno State Specialist Hospital said meanwhile that more than 30 bodies had been brought to the facility but there was no immediate corroboration of the claim.
"Emergency workers are attending to some of the people that sustained injuries," the health official added.
Dole said that 10 vehicles and five three-wheel motorised rickshaws were destroyed in the blast, which happened in the early afternoon on the annual Islamic festival, which is a public holiday in Nigeria.
Maiduguri, like the rest of northern Nigeria, is majority Muslim.
It is considered the spiritual home of Boko Haram, the Islamist militant group deemed an international terrorist organisation by the United States, that has been waging a bloody insurgency since 2009.
Among the dead were said to be a police traffic warden, passing motorists as well as roadside vendors selling suya, a spiced grilled meat popular across Nigeria.
Sustained attacks
Dole said the attack came "after a long period of relative peace in Maiduguri and environs".
The last bomb blast in the heart of Maiduguri exploded in March last year, also at a market, but militants launched an audacious attack on military installations near the city's airport in December.
The December 2 strike saw the insurgents burn aircraft, seize weapons and raze buildings at an air force base, indicating they were still able to bypass a heavy military presence in the state.
Suspected Boko Haram gunmen also killed five at a village market some 22 kilometres from Maiduguri on Sunday, burning cars, shops and tents storing grain in a deadly rampage.
By late afternoon, smoke was still seen billowing from the scene of the latest blast, while roads were closed off causing lengthy tailbacks across the city.
The explosion, which one police officer said could be heard up to three kilometres (nearly two miles) away, caused panic in the city, with eye witnesses describing the scene as "pandemonium".
The army said extra security would be in place to prevent further attacks, vowing that "any individual or groups found to be behind these heinous and dastardly acts will be decisively dealt with".
But the strike and regular deadly violence will raise fears that Boko Haram is far from weakened, despite ongoing efforts to flush out the militants from urban centres to more remote rural areas.
Borno, neighbouring Yobe and Adamawa states have been subject to emergency rule since May last year, which has seen the area flooded with troops and aircraft on counter-insurgency operations.
Mobile phone networks have been largely switched off in Maiduguri to disrupt militant planning but making communication outside the city and state difficult.

Load more