The Catholic Archbishop of Abuja, Cardinal John Onaiyekan, has commended Nigeria's Federal Government for its uncompromising stand on the anti-gay law in spite of criticisms from a section of the international community.
Onaiyekan, briefing newsmen on activities to mark his 70th birthday in Abuja on Friday, said Nigeria, being an independent country, should stand firm on its culture, tradition and morals.
"The church accepts people as they are, we condemn homosexuality, Nigeria is an independent country and we do not beg for food.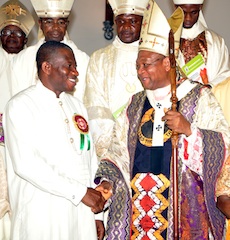 "We have every right to order our social life in any way we think it should go. Our social life should not be organised on the basis of what others think.
"On this note, I commend our National Assembly and Mr President for resisting all the pressures and enacting a law against homosexuality,'' he said.
He stressed that the law prohibiting same sex marriage was a good omen for the country.
"Signing the bill into law by President Jonathan in spite of pressures from within and outside the country should be commended by all and sundry.''
He said major religions in the country and even the African tradition forbade homosexuality.
Onaiyekan frowned at proponents of homosexuality, noting that they had held parts of the world hostage with their evil beliefs for too long.
He said it was time for believers in the faith to rise in unison and put the debate of whether governments, globally, should guarantee the rights of gays or not, to rest.
"The world is at crossroads and there is nothing new under the sun. `We all know that this is not the first time we have heard about the agitation for gay rights but our position, as a church, has not changed.
"Even when some sections of society view same sex issues as moral disorder acts, homosexuality has not stopped, it still happens in the open around the world. It doesn't mean that it should be accepted.''
On the recent developments in the polity, the cardinal called for a change of attitude by the leaders and followers.
He said that prayers alone could not solve the myriad of problems facing Nigerians in the different sectors of the economy and even in their private lives.
Onaiyekan noted that "God has been very generous to Nigerians. It is time for them to have a rethink and change for the better.
"Governments at all levels should partner with the church to address management deficits in key sectors as health, education and other social services where the church has comparative advantage.''
Onaiyekan will be 70 years old on 29 January. Activities marking his birthday have been slated for 5 February and 8 February in Abuja.
Load more