Controversial Rivers State Police Commissioner, Mbu Joseph Mbu has been kicked out of Rivers State, confirming an earlier scoop by Saharareporters.com.
Mbu, who had spent less than 12 months in Rivers State, had his tenure terminated today, in a fresh posting for police commissioners announced by Police Service Commission.
He has now been transferred to Abuja, Nigeria's capital, close to President Goodluck Jonathan and his wife, Patience, believed to have emboldened the commissioner in executing a reign of terror in the state and a virtual disrespect of Governor Rotimi Amaechi, the state's chief security officer, by the provisions of the Nigerian Constitution.
Mbu's running battle with Amaechi earned him national notoriety and even last week, he still decreed a total ban on political activities in the state.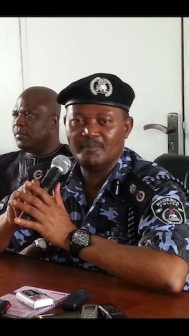 He is to be replaced by Mr. Johnson Tunde Ogunsakin, who until his redeployment, was the CP in charge of the Special Fraud Unit of the Police based in Lagos.
As Police Commissioner in the state, Mbu was alleged to have become willing tools in the hands of not just Mrs. Jonathan, but also Nyesom Wike, the Minister of Education and other officials of the presidency fighting Amaechi for the control of Rivers State political space.
Often, Mbu's police goons disrupted the rallies and meetings organized by those perceived to be supporters of the Governor among other errant behaviours.
Two weeks ago, the All Progressive Congress asked it lawmakers to block bills emanating from the President Jonathan led executive branch of government if the presidency refused to call Mbu to order.
The other postings as announced by Ferdinand Ekpe, spokesman of the Police Service Commission are:
Ambrose Aisabo, posted to Kwara, Felix O. Uyanya, moved from Police College to Ekiti State; Abdul Majid Ali, Imo state, Benjamin Onwuka, kebbi State, .
The other commisioners moved are: Ibrahim Maishanu, Osun state, Adamu Ibrahim, Abia State, Adenrele Shinaba, Kano state , Umaru Shehu, kaduna state, A.J. Abakasanga, Adamawa state, Kalafite Adeyemi, Taraba state and Ibrahim Idris, Nasarawa State.

Load more