The Nigerian Union in South Africa on Wednesday says it is mobilising Nigerians in that country to sign a petition against police brutality on Nigerians.
The President of the Union, Mr Ikechukwu Anyene, made this known in a telephone interview from Pretoria, South Africa, with the News Agency of Nigeria (NAN).
Anyene said that three Nigerians had been killed by South African police since the beginning of this year.
He said the union had contacted the various chapters of the body to mobilise Nigerians to sign the petition in the provinces.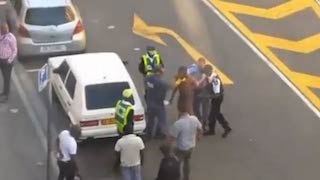 "The union will send the petition to the ministry of police affairs in South Africa, copy the Nigerian mission and the National Assembly.
"We want the world to know that Nigerians are being manhandled in South Africa by the police. We are not overwhelmed, but we have a lot on our hands here,'' he said.
Anyene also said on March 11, a Nigerian businessman, Emmanuel Prosper, was shot dead by a South African citizen.
He said Prosper, 32, a native of Igboukwu, Anambra, was allegedly killed by the South African for cheating on him in their gay relationship.
"We are alerted that a Nigerian had been shot at the Pretoria business district yesterday, (March 11).
"On getting to the scene, we saw the Nigerian dead and were told that the South African killed him for cheating in their gay relationship,'' he said.
Anyene said the police has arrested the suspect and would charge him to court on March 13

Load more