Jamiu Yisa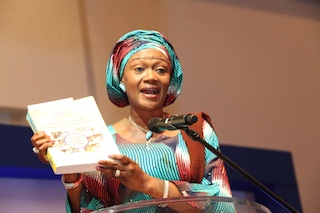 Senator Oluremi Tinubu has decried the Federal Government's handling of the rescue of over 200 students kidnapped from Government Girls Secondary School, Chibok on 14 April this year.
The Senator representing Lagos Central Senatorial District, who stated this on Sunday during a news conference in Lagos, southwest Nigeria, to mark her third anniversary of representing the constituency at the Senate, blamed the President Goodluck Jonathan-led Federal Government for the poorly handled rescue efforts.
She lamented that President Jonathan is not doing anything meaningful to bring the girls back and said she was worried about the high level of insecurity in the country.
According to her, instead of the President attending to burning national issues and finding lasting solutions to them, he was in Ekiti State campaigning for Ayo Fayose, the Peoples Democratic Party governorship candidate in the 21 June election.
Tinubu in her speech titled, 'Making A Mark: Three Years Of People-Focused Representation', gave an account of her stewardship in the Senate since her election three years ago.
She highlighted the benefits that have accrued to her constituency and Lagos State in general as well as her developmental initiatives at the constituency level, reeling out hundreds of beneficiaries of her scholarship programme and other empowerment initiatives.
She decried the shenanigans in the Senate and said activities there are very depressing, adding that PDP caucus in the Senate frustrates opposition party members' bills.
She revealed how her bill on social security for Nigerians was scuttled by PDP at the Senate.
Tinubu said that the Senate is a place she will not want to go back to except APC is the majority party at the National Assembly.
"Activities in the Senate are very depressing. A lot of things that are supposed to be in the front burner are not taken into consideration. I don't think the Senate is a place I will want to go back to except the APC takes over the mantle of leadership.
"Shekarau that cannot win election has been nominated as minister, Fayose and Omisore were picked as governorship candidates in Ekiti and Osun states respectively. In all of this, I wonder what is our sin. God should forgive us. Human life has no meaning in Nigeria. Innocent people are being killed every day.
"Nigerians should wake up and vote wisely in 2015. We need to leave a good legacy for our children and the generations yet unborn," she said.
Load more