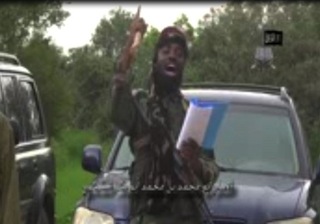 Boko Haram on Tuesday attempted to blow up a bridge on the Nigerian border with Cameroun after overrunning a town and sending residents and soldiers fleeing, police and locals said.
A Cameroun police officer stationed in the far north town of Fotokol told AFP that the militants tried to destroy the bridge, which serves as the border crossing with Gamboru Ngala in Nigeria.
Boko Haram stormed Gamboru Ngala early on Monday and by evening had taken over the police station, a military barracks and vocational training centre, where they had based themselves, locals said.
Three children were reportedly injured by flying shrapnel when explosives were detonated, possibly by firing from the Cameroun side of the border, they added.
Nigeria's military in Abuja on Monday denied reports that more than 450 soldiers had crossed into Cameroun, claiming that it was a "tactical manoeuvre" as they pursued the militants.
The authorities in Cameroun said the troops fought a rear-guard battle in Gamboru Ngala before withdrawing as they were out-numbered. They spent the evening at a Fotokol customs post.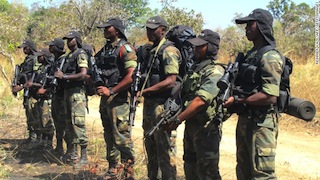 Boko Haram has in recent weeks switched tactics from hit-and-run attacks to attempting to seize and hold territory and have proclaimed one captured town, Gwoza, as part of an "Islamic caliphate".
Assessing how much territory the militants now hold is impossible but residents have said the Islamists now control at least one town in Yobe state — Buni Yadi — as well as Gwoza and Gamboru Ngala in neighbouring Borno.
In Adamawa, which has also been under a state of emergency since May last year, a local government official said scores of gunmen stormed the town of Madagali on Saturday, forcing out soldiers and taking over government buildings.
Local government chairman Maina Ularamu said the insurgents advanced from Gwoza, some 23 kilometres (14 miles) away, and took several villages in between.
"Boko Haram are now in control of Madagali and many villages in the area which have been deserted by residents for fear of attack by the insurgents," he added.
Troops were chased out of the town of Gulak, the administrative headquarters for the region some 20 kilometres away from Madagali.
The Islamists arrived from Gwoza via Liman Kara, where they took over a police training college last week, Ularamu said.
"For now they are not killing residents but people are living in fear considering the carnage they carried out in Gwoza, despite giving assurances to residents they were not going to harm them," he said.
On Monday, six people were killed in the village of Kafin Hausa while a church was burnt down in Sabon Garin Hyanbula on Sunday.
"People have been sneaking out from Madagali to avoid possible attack by the Boko Haram gunmen," Ularamu said.
Load more