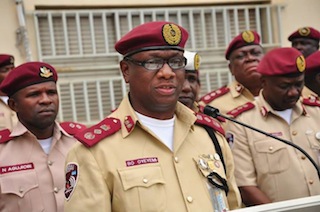 The Federal Roads Safety Corps (FRSC) on Wednesday in Abuja assured Nigerians that its personnel would not abandon victims of road accidents following the recent Ebola outbreak in the country.
The FRSC Public Education Officer, Corps Commander Stella Uchegbu, gave the assurance at an interactive media chat on security, safety and emergency issues.
The forum was organised for the Forum of Spokespersons of Security and Response Agencies (FOSSRA) by I-Nigerian Initiative in Abuja.
Uchegbu said she was worried by the recent case of a road accident victim who was left to bleed to death in Bayelsa, having been deserted by hospital staff for fear of contracting the Ebola Virus.
"We cannot see a road traffic victim and leave him to die because of Ebola. In fact, since the outbreak there have been road crashes.
"And we cannot see any victim of road crash and keep off because of Ebola. We cannot do that because it is simply not in our nature," she said.
Uchegbu said that the corps had taken proactive measures by distributing protective items to its staff, which include face masks, hand gloves and sanitisers.
"We now want to expand it to protecting our stakeholders; those who visit our offices by providing hand sanitisers in the office.
"Our paramedics have undergone specialised training in this direction."
National Coordinator of I-Nigerian Initiative, Ms Ada Apiafi, said that FRSC had been active in making highways safe for motorists and other road users.
She said this include inculcating discipline on the highways through the standardisation of highway traffic codes, drivers' licences and other particulars of road users.
Apiafi advised Nigerians to obey traffic rules, observe traffic signs and speed limits to reduce accidents.
Load more