Okafor Ofiebor/Port Harcourt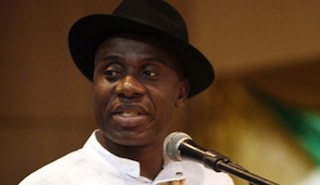 Rivers state governor, Chibuike Amaechi, has accused the federal government of massive corruption and inability to draw the line of difference between funds meant for the public and those for private pockets.
He said the federal government through Mrs Ngozi Okonji-Iweala, Minister of Finance and Coordinator of the Economy has claimed that the country is not broke, yet it cannot allocate to the state governments their allocations, to help them complete projects they are executing.
Governor Amaechi said: "How else can you know if you are broke when you cannot meet you financial obligations? The governors are saying if you are not broke as you claim, why not pay us our money. They have not been able to separate between money for private pocket and the Nigerian pocket".
He said that perhaps because Okonji-Iweala is an economist she knows the best term to use to describe the terrible situation the country has found itself to the extent it cannot fund its projects.
Amaechi spoke on the sidelines of tomorrow's mega rally at the new Adokiye Amaesiamaka Stadium at Igwurutali that is expected to attract over 60,000 people to mark the seven-year anniversary of the Supreme Court judgment that enabled him reclaim his mandate in 2007.
The highlights of the occasion is that it would afford the governor the opportunity to give the report of his stewardship for the past seven years as governor.
General Mohammdu Buhari rtd, Atiku Abubakar, Governor Rochas Okorocha, Nda-Isaiah, founder and publisher of Leadership Newspapers and other important dignitaries are expected to grace the occasion.
Load more