Cyriacus Izuekwe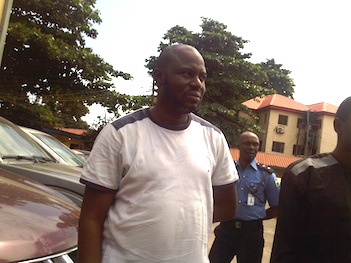 Abuja based car dealer, Alhaji Mahmud Abdulakeen Tanko, 48, has confessed that he buys stolen cars from over 30 boys who deal in snatching cars in Abuja the Federal Capital Territory, FCT.
The Kano state born, Alhaji Tanko was arrested in Abuja after he was implicated by one of his gang members arrested in River state, by Lagos State Anti-Robbery Squad, SARS.
Also 16 stolen cars of different brands were recovered from them as exhibit which have been parked at the Police Command at Ikeja, Lagos.
The Commissioner of Police, Mr Kayode Aderant paraded Tanko along with four other members of his gang. Other members were Musa Yusuf, 27, Israel Nana, 30, Moses Andrel, 25 and Abayomi Adebayo, 53.
Vehicles recovered from the group includes Toyota Camry, Nissan, Sienna, Outlander Jeeps, Toyota Sienna, SUVs among others.
Tanko said he was not a thief or robber but was aware that the cars sold to him by the boys were stolen cars, noting that, as a businessman he only buys the stolen cars because they were sold at cheaper prices and they helped him to make maximum profit.
When asked if he knew the fate of owners of those stolen cars he bought, he said he does not know and did not ask such questions because he knew they were robbers.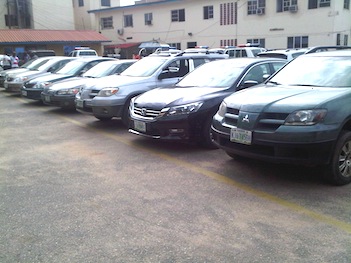 On how he was arrested, he said he was in his garage when the police led by Nana came and arrested him and since then he has been assisting the police to recover those stolen cars in various cities in Nigeria.
Tanko was arrested in Abuja, while a Liberian, Andrel, and Ghanaian, Nana, were arrested in Oyo and Rivers states respectively.
Adebayo who allegedly specialized in forging the engines and chassis numbers of vehicles, was arrested in Ayobo area of Lagos.
The suspects admitted they committed the crime and offered explanations about how they began the business.
Andrel, who said he was a UAC driver, said Nana convinced him to join the gang and since then, he has sold about four cars.
Nana admitted that he has only sold two cars and said the idea of car snatching was shared by Andrel.
CP Aderanti said, following cases of armed robbery involving snatching of cars, he mandated CSP Kyari to go after them.
He said through the deployment of cutting edge technology, intensive surveillance and aggressive patrol, the suspects were arrested in different cities in Nigeria.
Aderanti said the 16 vehicles previously stolen were recovered in different locations in Abuja, Port Harcourt and Benin.
Load more