In the first interview he granted since he became the presidential candidate of the All Progressives Congress (APC), retired General Muhammadu Buhari spoke on a variety of past, present and future issues regarding his politics, military career, personal life and others. Excerpts:
Q: This is your fourth stab at the presidency. Is there any factor that makes you feel this attempt will be any different?
General Muhammadu Buhari: Yes. The first is the merger which gave birth to the APC itself. Since 2005, we realized that none of the opposition parties can go up against the PDP significantly. The party has no intention of ruling this country with justice, as we have seen in the sixteen years they have been around. For example, on the side of the economy, look at the Nigerian Airways, the railways and shipping line, where are they? Look at the expenditure on NEPA and the hearing conducted by the National Assembly on it. Then look at pension funds and the petroleum industry. The list is long.
There is no way they can tell you that there has been an honest attempt to punish corruption on a massive scale in this country. Secondly, out of ethical behaviour, Nigerian soldiers started granting interviews to foreign media, saying they were being sent to the warfront without proper weapons. And again the National Assembly attempted to conduct a hearing by going to find out what is being appropriated to the military or the Ministry of Defence for the last three, four years, which amounts to trillions of naira. And they invited the service chiefs or Chief of Defence Staff to tell them what is happening to the money, but that hearing was frustrated.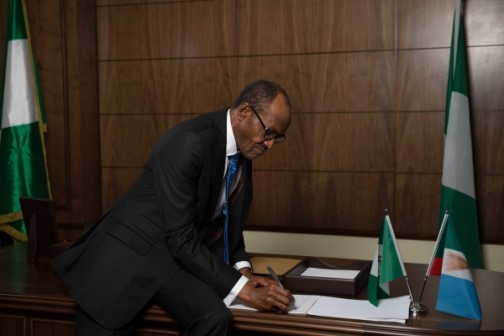 Q: You've been in the race for the presidency for over a decade now. Some people feel that as one of the pillars of the merger, you should have sacrificed your ambition so that a younger generation would aspire…
Buhari: I don't want to personalise going for the highest office. If you could recall, I was being held on it by a number of people when I broke down in 2010, when I said after that attempt I won't attempt again. But my supporters all over the country said since I didn't say I have resigned completely from politics in the press statement I issued, I cannot refuse them. So my supporters ganged up and said I must compete. The party had not rejected me, either. An example is the just-completed primaries. If my supporters had not wanted me to attempt again, they would have voted me out. But you know the result, it was transparent. So since I didn't resign from partisan politics, I felt I had a role to play to make sure this country is secure and efficiently managed.
Q: The current government has been criticised, even internationally, for under-performing. Do you think this would make coasting to victory relatively easy for you?
Buhari: Well, certainly they have made more than enough mistakes to be voted out. But most importantly, is for constituencies to be sufficiently mobilised to vote and make sure their votes count. We have the example of Ekiti and Osun, of recent. And we know that the only thing the PDP does is to rig elections, send compromised law enforcement agents to arrest opposition leadership, lock them up, then let them out after the elections. Also, they organise people to snatch boxes. All these have been displayed in court and in previous elections.
Q: Just recently the Independent National Electoral Commission (INEC) had an interactive session with the media and a resolution reached was that the media cannot announce results. With your call that voters stand by results, are you comfortable with INEC being the sole announcer?
Buhari: I'm not comfortable with it at all. I will ask my party to send strong representation and if possible, mobilise voters to resist it. Results should be announced in every polling unit, collation centre, and local government and in every state, and then finally, it should be compiled and announced by INEC headquarters. In each polling unit, there are INEC representatives. Is it that they don't trust the people they deploy?
Q: What would be the very first action you would take against insurgency if you are elected?
Buhari: First of all, I'll find out from the main source, the law enforcement agencies, their intelligence reports. What has been going wrong? How is it that fighting insurgents in one corner of Nigeria – the federal government, even with what is being voted for them – is asking the National Assembly to approve a $1billion loan to fight insurgency?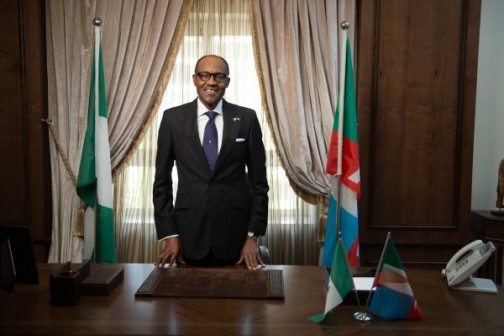 Q: As a retired military officer, with the benefit of hindsight, how do you feel about the state of the army today when you compare it to your time?
Buhari: Have you ever heard the armed forces individually meet with junior rank, giving interviews to foreign press, saying they were being pushed to the front without weapons? It never happened before now. And that was why the National Assembly attempted to conduct a hearing by digging into the budget of the Ministry of Defence over the last four years, and then tried to confront the service chiefs on what was happening. Like I said earlier, that hearing was frustrated.
If you go to any ministry or parastatal, two things you must get are administrative and financial institutions. If that is followed, soldiers wouldn't have given interviews to foreign press because Nigeria is voting enough money for hardware and training. But the money is disappearing somewhere along the line.
Q: Still on insecurity, you have commented about the Chibok girls' situation in the past. What would have been your approach?
Buhari: When the Chibok girls were kidnapped, it took weeks before the president even accepted that they were taken. I don't want to believe the intelligence system of this country has collapsed so badly that a disaster of such magnitude could happen without the president knowing for that long. It's unbelievable. And of course you can recall the drama with the First Lady. Of course, there is God. There has always been God and there always will be.
Q: Do you ever feel that, with the colossal problems Nigeria is currently facing, you would fall short of expectations?
Buhari: I have my ideas of the needful. But there will be a government in place. If under my leadership, it should comprise of knowledgeable, tried and tested people. As I said earlier, I don't believe the intelligence community is not sending reports. They're either being ignored by executives at various levels or we're not working hard enough. But the important thing is to know the facts on the ground and work around the clock to make sure that you make progress as rapidly as humanly possible.
Q: Corruption is a hot-button topic in Nigeria and some of your backers may have related issues. Wouldn't your hands be tied when trying to deal with corruption?
Buhari: I try as much as possible not to make myself a hostage. So whoever helped me, as you suggest, to become the party's flag-bearer, I want to assume he or she did it because they want to give the party the opportunity to win next year's election, not because they want to hide whatever they may have committed against their country.
Q: Speculation was rife when you picked your running mate, about APC chieftain Bola Tinubu forcing a candidate down your throat. How true is that?
Buhari: Tinubu didn't force anybody on me. The system is absolutely clear. If your party chooses you, you have got the right to pick. The party picked me as their presidential candidate. There are so many considerations. Support for the party, its constituencies, and the character of the person you recommend. All you do is to ask for names from the party, and they go through the processes, taking into account constituencies in the six geo-political zones.
You can't have the presidential candidate from the northern political zone and then the vice president from there. It's not politically acceptable. The party gave me the names and I picked one. Even the PDP accused me for being incompetent, that it took me six days to do it. The APC's isn't automatic. We go through a system.
" Nobody had ever talked about religion when we were around. Gowon was in charge of this country for nine years, thirty months of which was a civil war. All his commanders, Army, Navy, Air Force and Supreme Headquarters were Christians and nobody talked. When Abiola became a politician, he contested and picked his running mate Kingibe, a Muslim from Borno State. If there was justice, they won that election. But Nigerians now have certainly allowed their attention to be diverted from productivity to religious arguments and so on."
Q: How is your relationship with Tinubu beyond politics and party activities?
Buhari: He's a committed party member. I think, if not for him and Chief Akande and some of us, the merger wouldn't have taken place.
Q: Some see your choice of running mate, Osinbajo, as unusual. When did you meet him and why did he become your choice?
Buhari: It wasn't out of the blues. Who was my last running mate? He was a pastor and a Yoruba man. In 2003 it was Chuba Okadigbo, a Catholic. In 2007, it was Ume-Ezeoke, an Igbo man, a Catholic. In 2011, it was Bakare, a pastor. There's nothing unusual about them.
Frankly, I met him through [Tinubu]. He brought a team of press men who grilled us for six hours on a Friday. I had to beg them for a Friday mosque break and they allowed me to go and pray and come back. He's a professor of Constitutional Law, has been a Commissioner of Justice and an Attorney General. He's an intellectual and has got vast experience. Who else do we have better than that?
Q: But there were speculations that Governor Rotimi Amaechi of Rivers State or Lagos State's Babatunde Fashola would emerge your running mate. Perhaps this is why your choice appeared unusual…
Buhari: To be fair, I defined the candidate's right to choose his running mate, which is legal. Why should I be harassed for claiming my right? The party gave me the mandate.
Q: You are yet to articulate an agenda to Nigerians…
Buhari: Our manifesto is coming.
Q: May we have a preview?
Buhari: But I've already stated that there are two fundamental issues. All other things are under security. If you don't secure the country, you'll be wasting your time. The government has the capacity to do some things simultaneously. This is to stop corruption.
Q: What is your relationship with former Nigerian leaders, such as General Ibrahim Babangida, Olusegun Obasanjo and the rest?
Buhari: Obasanjo, of course, I competed against him in 2003 and he is still a member of the PDP. They are my biggest political enemies. I don't think Babangida is an active member of the party like Obasanjo. We're pressing our rights as Nigerians. Once we are out of uniform, we can pick a party of our choice. But whether in or out of uniform, everyone has the right to vote in his or her constituency. I don't see anything between me and my former colleagues, senior or junior.
Q: People say you were dictatorial when you were Head of State, but the tune seems different today, that then it was Idiagbon who was behind that approach. What was the true picture of things then?
Buhari: Idiagbon, may his soul rest in perfect peace, was very hard-working and loyal. That was his fault, being loyal. He'll take instructions from me and implement to the letter. And because he refused to smile when he was in office, and was not sparing anybody, they put most of the blame on him. Now that he's not there and I'm alive, they are shifting the blame to me. He was a committed Nigerian. Idiagbon had been militarily following my footsteps. He was commander of 31 Infantry Brigade, now Mechanized Brigade, which I established after the war. When I left, he became the commander there. When I moved to the North-East, he moved to become Governor of Borno State. Historically, he has been following me in my profession.
I knew him a long time ago. It's one of the things now being abused by mischief-makers about the whole Muslim-Muslim, Christian-Christian ticket thing. Idiagbon lived and died a Muslim. I'm still a Muslim. Nobody had ever talked about religion when we were around. Gowon was in charge of this country for nine years, thirty months of which was a civil war. All his commanders, Army, Navy, Air Force and Supreme Headquarters were Christians and nobody talked. When Abiola became a politician, he contested and picked his running mate Kingibe, a Muslim from Borno State. If there was justice, they won that election. But Nigerians now have certainly allowed their attention to be diverted from productivity to religious arguments and so on.
Q: What will you say to critics who translated your relationship with Idiagbon to say you're weak?
Buhari: Give me the chance next year and see whether I'm weak or not.
Q: You just complained about how the society has been reduced to a religious and ethnic affair. What would you do if you become president come 2015?
Buhari: The way I'll do it is by performance. It's what is physically on the ground that matters, not what faith you practice. The constitution of the Federal republic of Nigeria says you can belong to any religion or even choose not to. It's your business. But the fundamental issue of Nigeria is security.
Q: But that didn't come to play in the process of choosing your running mate, Osinbajo as your running mate…
Buhari: You can't absolutely ignore perception. At the same time, you'll not allow perception to tamper with the reality on ground or social justice.
Q: A former associate of yours, Buba Galadima, said he left you because you reneged on your promise not to contest again. But here we are…
Buhari: Since I've gone back on what I said, the only thing for him and his followers is not to vote for me next year.
Q: If he comes back, would you accept him?
Buhari: He's welcome.
Q: You left the army in 1985. What did you delve into after being released from house arrest?
Buhari: I went home and looked after my cattle.
Q: There are alarming statistics regarding youth unemployment in Nigeria. If elected, what exactly would be your solution?
Buhari: The problem is that every unemployed youth is frightened. And a number of people think we are sitting on a keg of gunpowder, which is true. But what can be done rapidly to assuage the situation? I think agriculture and solid minerals would quickly move them away from unemployment. Other things have to take time, because you need to rehabilitate the infrastructure, especially education. You don't get qualified teachers overnight. We've to cultivate it by retraining them and make teaching attractive so that teachers would agree to go to the institutions. Then renovate the institutions. It is disheartening to see children in some local governments sitting on the ground under a tree with a makeshift blackboard. I think that is indefensible. There must be enough resources to put educational infrastructures on ground. That's very important, as is healthcare.
"The way I'll do it is by performance. It's what is physically on the ground that matters, not what faith you practice. The constitution of the Federal republic of Nigeria says you can belong to any religion or even choose not to. It's your business. But the fundamental issue of Nigeria is security. "
Q: Should Nigerians expect to see the Buhari brand of justice when you come into power?
Buhari: I think the practical way of approaching corruption in this country – and I make reference to NEPA, the petroleum industry and the military – is to draw a line. Whatever is the cause, we'll not interfere with the courts, except that we'll stay on their backs. Let them treat corruption cases as best as they can. From the day we come in, for those who think the treasury is for their pockets, there will be legal implications. If you say you will start to investigate every corruption incident in Nigeria, it would not be possible. Most of the institutions have been compromised. The person you depend on to go and investigate may be corrupt also.
Q: What is your typical day like?
Buhari: I use between 5:00am to 5:30am to pray, after which I listen to Voice of America, then the BBC up to 7:00am. Then I enjoy the benefit of retirement and put in an hour or so of sleep, and then I come out and have breakfast. After that, it's the office and there are usually those who have an appointment and those who don't, waiting for me. That's what takes most of my time. Now that I've got a ticket, we have to be busy building the structure on the ground because time is against us.
Q: What sport do you play?
Buhari: I used to play squash and tennis. Now I walk.
Q: What is your favourite food?
Buhari: Tuwon Alkama.
Q: The young are constantly online these days. Will your presidency be social media-friendly?
Buhari: Yes. I want the government to get to the people. I want an honest assessment of our performance to be conveyed to the public.
Q: At 72, you're still strong. What's the secret?
Buhari: I think it's the military training. I played a lot of squash and table tennis, too. Now I try to walk three times a week at least.
Q: There's an impression in some quarters that you're misunderstood. What can you say about that?
Buhari: I don't think I'm misunderstood by most Nigerians. I'm misunderstood deliberately by paid agents of the PDP. That's all I can say.
Q: What would you say is your philosophy?
Buhari: Social justice. From leadership of your family to whatever you become, make sure there is justice.
*The Weekly Trust newspaper conducted this interview
Load more