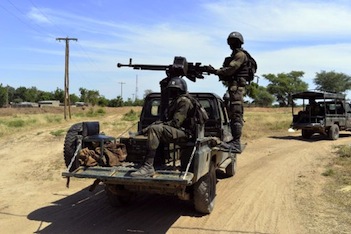 Some 1,000 suspected Boko Haram fighters from Nigeria attacked five towns in northern Cameroon over the weekend and briefly occupied a military camp on Sunday before being removed by the air force, an army spokesman said.
The heavily armed group attacked the military camp in Achigachia near the Nigerian border at around 4 a.m.. Following an intense battle, the army abandoned the camp, Lieutenant Colonel Didier Badjeck told Reuters by phone.
"After that, the head of state ordered the air force to carry out strikes. With the bombardment, the fighters were forced to decamp from Achigachia," Badjeck said.
Cameroonian Communications minister, Issa Tchiroma Bakary said more than 40 suspected militants were killed in a series of confrontations with the Cameroonian army in the Far North Region of Cameroon.
Cameroon state radio CRTV said the militants carried out attacks on five towns over the weekend and at least one Cameroonian soldier was killed.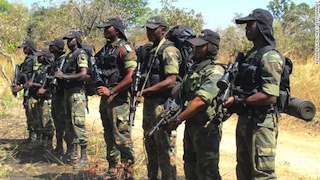 "The attacks were carried out simultaneously at the localities of Mokolo, Chogori, Waza, Amchide and Makari, villages along the frontier with Nigeria," CRTV radio reported.
One Cameroonian soldier was killed in the fighting, the minister said.
On Sunday morning, the militants attacked Achigachia, forcing the Cameroonian army to retreat. The army later took the place back after the Air Force entered into action.
The militants suffered heavy losses in Chogori where 34 of them were killed, the minister said.

Load more