Lanre Babalola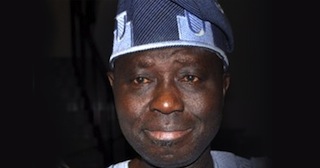 The Minister of Police Affairs, Alhaji Jelili Adesiyan, has warned that from now henceforth anybody who incites the people to violence will be dealt with according to the law.
The minister was speaking in Lagos at the public presentation of 'Watch The Watcher', a book recounting the Obasanjo years written by Yinka Odumakin, at the Sheraton Hotel and Towers, Ikeja.
Adesiyan who noted utterances by some politicians to foment trouble during the general elections next year and form a parallel government if they did not win the election, said anyone issuing threats to incite violence in the country will from now be arrested and charged to court for inciting the people against the government.
"Let them try it now and I'm telling you all now that I have started discussing with the Inspector-General of Police and the Director-General of Department of State Security (DSS) on the need to bring all those making inflammatory statements capable of causing violence in the land, to book.
"This government will no longer tolerate people making statements to incite the people against the government.
"This country belongs to us all and nobody can claim that it belongs to a section. They cannot capture power. Power belongs to God and He gives it to whoever he pleases. Members of the opposition should watch their utterances. We will no longer condone their excesses," he warned, adding "those inciting the people against the government will pay for it. There will be no sacred cow," Adesiyan warned.
The minister called on Nigerians to go about their businesses, adding that the Jonathan administration was prepared for next year's general election which he said will be free and fair.
Also speaking with journalists at the event, retired military lawyer, Colonel Bello Fadile, accused former President Olusegun Obasanjo of discrediting him in his book, 'My Watch' by publishing a secret letter which he asked him not to disclose. He described Obasanjo as a disgrace to the Nigerian military, adding that his rank as a general should be withdrawn.
"Obasanjo is a liar who will never die well. He will soon go back to prison and die there. He is a cultist, a serial liar. We are ready to fight Obasanjo and send him back to prison. I did not participate in the planning of any coup which Obasanjo insinuated in his book," adding that Obasanjo should be fair to him by releasing earlier communications between him and other military officers before they were arrested for coup planning.
Also referring to Obasanjo's book, Chief Ayo Adebanjo, Afenifere chieftain described Obasanjo as a self conceited fellow. "To Obasanjo, Nigeria never existed before he came to power. He has only one adviser, Matthew Aremu Okikiola Obasanjo.
"Obasanjo believed he is not corrupt. But before he left office, he changed the constitution of the party so that he can become the Chairman of the party's Board of Trustees (BoT). He is a conscienceless man.
"Some said he represented Yoruba when he was president. He did not, Yoruba did not vote for him. Yoruba never benefitted from his government. For eight years, I challenge anybody to come and show what we (Yoruba) got when Obasanjo was at the helm of affairs. Obasanjo has no conscience," he said.
The Chairman of the book presentation, Aremo Olusegun Osoba condemned Obasanjo's denial of his desire for a third term in office, saying he worked for it.
On Obasanjo's claim that he did not seek support from the defunct Alliance for Democracy (AD) governors for his second term in 2003, Osoba stated: "The Watcher (Obasanjo) wrote a book which Wole Soyinka has given his verdict. I am also going to give my verdict when I write my book.
"That he (Obasanjo) does not know about the pact with the AD governors is far from the fact. To correct him, it was July 2002, he (Obasanjo) came to the graduation at UNILAG, we met at the office of the old Head of State at Dodan Barracks. It was there that he almost went on his knees that we, the AD governors, should support his second term ambition.
"We (AD governors) told him that we were not the founding fathers of AD. We told Abraham Adesanya but he said he would never go to Abuja. He later agreed that he would meet us at the presidential lodge.
Abraham Adesanya never met him at Abuja but at the slightest notice Obasanjo came to Abuja. Adesanya told him (Obasanjo) that he heard he was going to ambush us (AD governors). Present that day were Bishop Gbonigi, the Awujale and Cornelius.
"I am shocked and surprised that he wrote in his book where he said he knew nothing about the third term agenda which he said God would have given him if he had asked God," Osoba stated.
Speaking on Odumakin's book, Osoba said, "It is an event to put the records straight. Many aspects of the book written by President Olusegun Obasanjo needs correction. He was at the centre of all the negotiations to broker a political agreement between Alliance for Democracy and the Peoples Democratic Party in 2003. For him to say he knew nothing about it, I totally disagree with him because the final meeting with him was attended by highly placed Nigerians, including a highly placed royal father, the Awujale, Pa Adesanya, Bishop Gbonigi, Bishop Ladigbolu, Chief Ayo Adebanjo, all the governors and a host of others.
"For him to say that he knew nothing about the arrangement between AD for which he aborted and rigged the election is totally incorrect. The book he wrote is too voluminous, I don't want to comment on other aspects because it is a very heavy book to read. I will write my own book to correct his wrong assertions."
The book was reviewed by Professor G.G. Darah.
Present at the occasion were Lagos PDP chairman, Tunji Shelle, Minister of Police Affairs, Alhaji Jelili Adeshiyan, Mr. Shola Ibiseni represented Ondo State Governor, Dr Olusegun Mimiko, Chief Ayo Adebanjo; FERMA chairman, Engineer Jide Adeniji, Labour Party scribe, Mr Kayode Ajulo; Colonel Tony Nyiam (retd), Col. Bello Fadile, Mr. Akin Osuntokun, among others.

Load more