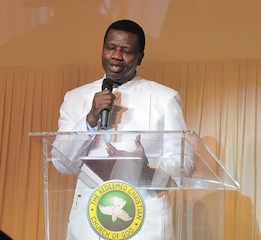 The General Overseer of the Redeemed Christian Church of God, RCCG, Pastor Enoch Adejare Adeboye, has again warned all the pastors in the church not to use the altar of the church to campaign for any politician.
This will be the third time Pastor Adeboye would be issuing the warning to the pastors of the church with headquarters in Nigeria and hundreds of branches globally.
He had issued a similar warning when an audio cassette authored by one Pastor Bosun, who claimed to be ordained in the RCCG, went viral.
In the controversial video Pastor Bosun advised Christians not to vote for the candidates of a particular political party in the forthcoming elections.
However, Pastor Adeboye swiftly disassociated the Redeemed Church from the contents of the cassette which generated discontent among politicians and political parties.
Pastor Adeboye told his pastors then that the church should not be used for any political activity.
He said he was not saying the pastors should not partake in politics, but that the church should not be turned to campaign ground.
A few days ago, the authorities of the church sent another text message to all the pastors of the church reminding them of the earlier warning.
The content of Pastor Adeboye's message read: 'The General Overseer had reiterated that on no account MUST the altar and the parish of the Redeemed Christian Church of God be used for political campaign. Anyone caught will face the consequence. You are warned."
The latest warning may not be unconnected with the recent development where the APC presidential candidate, General Muhammadu Buhari, picked one of the senior pastors of the church, Pastor Yemi Osinbajo, who is a Provincial Pastor, as his running mate.
Since Osinbajo emerged as General Buhari's running mate, the pendulum has changed in the political circle.
Buhari, who had hitherto attracted hostility from Christendom because of his perceived religious stance, has been enjoying tremendous support from Christians because of Osinbajo.

Load more