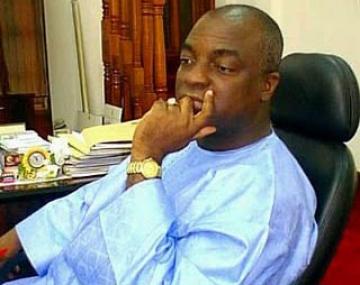 The Living Faith Church, also known as Winners Chapel, has cleared the air on statements attributed to its general overseer, Bishop David Oyedepo, claiming that he asked God to open "hell gate" on opponents of President Goodluck Jonathan, when the president visited the headquarters of the church in Ota, Ogun state on 25 January.
In a statement by the Resident Pastor of the church, Pastor Ubong Ntia, the church said the reports that was awash online news media shortly after the third service were far from the truth.
The church noted that those spreading the rumour should have obtained the video clip of the service and verified the statement attributed to Oyedepo. "There was nowhere, nor was there any time the following prayer or words were uttered by the Church or the Bishop: 'I will open the gates of hell to anyone who opposes you', or 'I will open the gates of hell to anyone who opposes the peace of this nation," the statement said.
The statement noted that Oyedepo did not call Jonathan to the altar for any special deliverance, adding that, the rumours were intended to cause mischief and to dent the image of Oyedepo and as well as create confusion in the country.
"President Jonathan along with his entourage, like the rest of the congregation, was upstanding, and prayers were made for him and all those in authority, and the nation."
"The President and his entourage arrived at Canaan Land (Faith Tabernacle) for the third service at about 9:30am. He and his team were ushered in and asked to occupy the front seats alongside the resident pastor and other senior pastors. Thereafter, in honour of the President, Bishop Oyedepo invited Jonathan to 'bring a word of greeting' to the congregation.
"President Jonathan spent approximately six minutes in his address, clearly stating that he would be careful not to sound political so that his visit and intentions would not be construed as electioneering campaign.
"In his brief speech, he adulated the ministry and person of bishop for the mighty works of faith, prayer for Nigeria and educational milestones the Living Faith Church has engendered for national development. He then expressed his belief that the elections of 2015 would go peacefully, while also asking for the people of God to pray more."
The statement said that Jonathan's visit was not to campaign for re-election but that he visited the church "in his capacity as President of the Federal Republic of Nigeria.
"Our church of over 33 years has been a sanctuary for all people with no prejudice to colour, ethnicity and political persuasion. We stand for righteousness and cherish our integrity," the statement read.