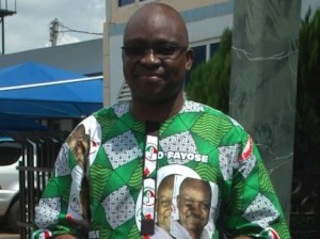 Governor Ayodele Fayose of Ekiti on Monday said his support for the re-election of President Goodluck Jonathan was in appreciation for the opportunity given him to serve the people of Ekiti state.
Fayose, who made this known during his campaign tour to Ikole in Ekiti, said it would be wrong on his part if he did not support the re-election of President Goodluck Jonathan.
"I was removed as Ekiti state governor in 2006 by one President but re-elected as governor in 2014 under another President and I will forever be grateful to the latter.
"The overwhelming support I have been receiving from the people of Ekiti since my assumption of office has clearly shown that I was wrongly removed in 2006.
"You should show the support during the February elections by voting for the re-election of President Jonathan and other candidates under the umbrella of the Peoples Democratic Party (PDP)."
Fayose reiterated his commitment to the welfare of Ekiti people and pledged to always do what would alleviate poverty and improve their living standards.
Highlight of the occasion was the presentation of PDP flags to the party candidates for House of Assembly, House of Representative and the Senate seats from the area.
The candidates are Mr Gboyega Aribisogan- Ikole State Constituency 1, Mrs Titilayo Owolabi-Ikole 11, Pastor Kehinde Agboola- Ikole Federal Constituency 1 and Chief Duro Faseyi- Ekiti North Senatorial District.

Load more