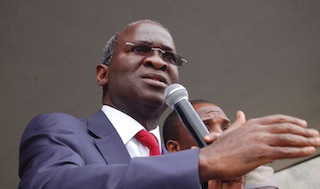 Governor Babatunde Fashola of Lagos state has insinuated that the Presidency has a case to answer after the office of the President was mentioned on a leaked recording on the eve of the governorship election in Ekiti state.
Fashola who spoke on Sunday after he collected his Permanent Voter's Card, PVC, at his polling unit in Surulere area of Lagos, Southwest Nigeria stated that some of the persons on the audio cannot deny it.
It would be recalled that a New York-based security firm helped analyse the voices of the characters in the leaked recording on plans to rig Ekiti election and the company, Guardian Consulting, said Governor Ayo Fayose of Ekiti, Senator Musiliu Obanikoro, Senator Iyiola Omisore, Hon. Abdulkareem and Caleb Olubolade were the persons on the tape.
Guardian Consulting said it conducted a forensic examination on the discussion and compared the voices to public record samples of the known individuals.
In Governor Fashola's reaction he said he was sure of some of those who spoke on the recording, especially the one who claimed that the promotion of security officer was in his hands.
"They have drawn the presidency into it. They said they were acting on behalf of the presidency. I am sure that fellow and even his grandchild will know that, that is his voice, so how he wants to deny it, I don't know."
"His own grandchildren will recognise his voice and many of us have already done. This must open the mind of the Nigerian people to what it takes to win an election. When Governor Aregbesola was celebrating, I know what he went through, because we have been through it, we have been in opposition here, and when we win elections in Lagos as we have always done, we know what it takes to do so, to keep votes that are legitimately cast for us.
"Those people in that audio are the examples of some of the kind of base desperation for power that you can never see. So, why ordinary Nigerians are struggling in the sun, trying to collect their PVCs, trying to vote, you see what they are doing at night, you see how seriously that party that they represent takes your vote and your effort and your sacrifice for democracy. I am sure now that Nigerians are getting wiser, because all of the things that they thought was done in the dark, is now out in the open," he stated.

Load more