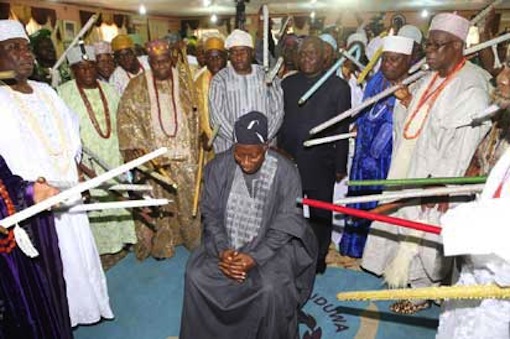 Oba Ibiloye Adeseun of Oke-Iresi, where President Goodluck Jonathan observed his National Youth Service Corps, has called for the creation of Oduduwa state, with Ile-Ife as the state capital.
The Oba of Oke-Iresi said this when the president paid a courtesy visit on the Ooni of Ife, Oba Okunade Sijuwade on Saturday. He urged the president to meet the yearnings of the people and give them Oduduwa state.
Adeseun who described President Jonathan "is the bridge to that tomorrow," noted that, another four years for Jonathan will guarantee the future of Nigerians.
In his remarks, Oba Sijuwade welcomed all his guests and lauded the president for the effective transformation in the country in all sectors.
Sijuwade called on the royal fathers to pray for the president to enable him succeed.
Similarly, Oba Adedokun Aroyinleye, the Orangun of Oke-Ila, reinstated the support of the state's royal fathers for his second term.
Aroyinleye appealed to the president to complete all uncompleted projects in Osun if re-elected.
Load more