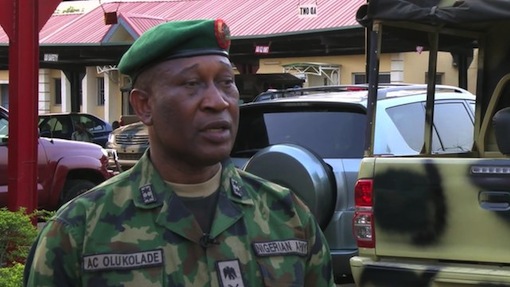 The military on Wednesday allayed the fear of Zaki Biam residents in Benue on fear reprisal attack
This information was contained in a statement issued in Abuja by Director of Defence Information Maj-Gen Chris Olukolade
He said an armed gang identified as Gana, which has been operating along Zaki-biam/Katsina Ala road, had attacked the troops on patrol, who were on their way to respond to a distress call from some people in the town on Tuesday.
The gang, which had reportedly been terrorising the community for some time, also made away with a number of items.
Olukolade assured the people, who fled their homes after the armed gang ambushed and killed a soldier and policeman recently, that there will be no reprisal attack on the community as rumoured in some quarters.
He said the military authorities in the locality have also assured that while every effort was being made to track down the armed gang that has been operating in the area before the incident, adding that no civilian will be unduly harassed.
He, therefore advised the people to return to their homes and carry on with their normal activities as the troops are only there for their protection
He said normalcy has been restored as the military and police patrol continue in the area.

Load more