Cyriacus Izuekwe

It appears that the last may not have been heard about the demolition of Ladipo Auto Spare Parts Market in Mushin, Lagos State, western Nigeria  as the market leaders have hired the services of a Lagos lawyer, Barr. Femi Falana, SAN, to institute legal action against Mushin Local Government and the developer.

The council and the developer are to sued for malicious damage and illegal eviction of the traders from the market.

Recently some thugs and police officers stormed the market to demolish and rebuild the market to a modern plaza.

The traders alleged that the roofs of their shops were forcefully removed and rain destroyed their goods worth millions of naira.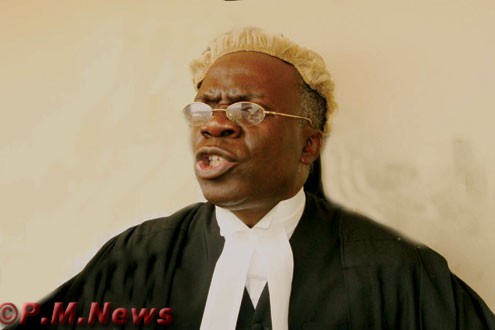 And apart from that, the thugs brought into the market looted the shops and carted away millions of naira kept in their shops.

The president of the market, Comrade Kingsley Ogunor who confirmed the development said more than 200 thugs and police officers invaded the market and demolished it to pave way for reconstruction.

He explained that they started the operation around 6 am when most of the shop owners were still at their homes.

Ogunor said when he was informed about the development, he rushed to the market and was not allowed to enter the market.

He said he had to rush to the council and after meeting with the council secretary, Mr Babajide Bello who was compelled to write an undertaking on behalf of the traders that the traders will move their goods in one month's time.

Ogunor said the traders were  shocked when they were later allowed to  enter the market and discovered that  the money kept in the shops had been stolen.

He said they are still compiling the goods rain destroyed. And the amount stolen.

Ogunor explained that the traders were not against the reconstruction of the market. He said what the traders were agitating for was to be involved in the process so that traders will not be shortchanged and lose their shops as was the case in other markets where such projects were executed.

He mentioned Tejuso market where the original owners lost their shops after reconstruction.

In reaction, the council information officer, Mr Akeem  Akinwumi denied that thugs looted the shops and their goods were destroyed.

He said before they went to the market, the traders were adequately informed.

He said the council assured the traders that non of them that have papers would lose their shops.

He explained that the market belongs to the council and the traders were tenants and they do not have right to say that the owner cannot rebuild its property.

Some of the stakeholders who spoke to our correspondent said they were ready for dialogue and if it failed, the legal process would commence fully.
Load more