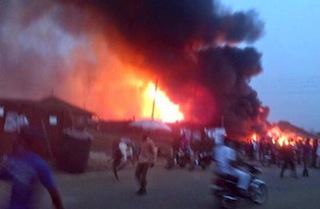 Kazeem Ugbodaga
A huge explosion has ripped apart a bungalow at Oworonshoki area of Lagos, Southwest Nigeria, destroying houses and wounding.
A deafening noise was heard at about 1:00pm on Sunday at House 88, behind Oworonshoki bus stop which caused a serious vibration and panic among the people.
A huge crowd was seen gathering at the scene of the explosion, which left several houses destroyed and the windows of some shattered.
Emergency rescuers were in the area to rescue lives. They include officials of the Lagos State Fire Services, Lagos State Emergency Management Agency, LASEMA, the police and others.
The crowd at the scene was making it difficult for rescue operators to do their job as they searched frantically in the ruins of houses to see if there were casualties.
Kabiawu Babajide, an eye witness said the explosion was so mighty that it shook the ground and shattered the glass windows of many houses in the area.
"There was a powerful explosion that just took place now around 1:00 pm at House 88, L&K b/stop Oworonsoki, Lagos, Nigeria. At the scene of the explosion many people said it was a bomb explosion while others said it was a gas explosion.
"From what we have seen on the ground, it is clear that the blast wave and shock destroyed the building and other buildings within its proximity. The explosion also shattered glasses within 1km of its radius. We believe there are casualties," says Babajide.
General Manager, Michael Akindele debunked claims that the explosion was a bomb, saying that it was a chemical explosion.
He said the explosion occurred in a bungalow where gas and carbonated drinks were being sold.
According to him, a leakage from one of the gas cylinders ignited the explosion and that with the aid of the carbonated wares being sold, the explosion was massive and destroyed some houses close to the building.
He said the bungalow housed five shops, one of which the gas was being sold and other carbonated drinks.
Akindele said four people were injured in the explosion, which includes three male adult and a six-month old baby, saying that the baby had been rushed to the Lagos State University Teaching Hospital, LASUTH, for urgent medical attention.
"No life was lost, we only have four casualties, three adult male and a six-month old baby. The recovery process is still ongoing. It is not a bomb explosion but a chemical explosion," he said.
Director, Lagos State Fire Service, Rasak Fadipe said his men were swift in responding to the emergency and that only four people were injured.
Load more