Cyriacus Izuekwe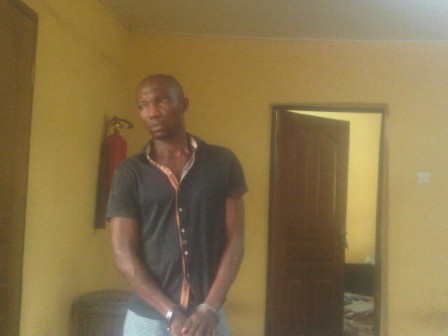 A 34-year-old man has been arrested and charged before Isolo Magistrates' court for allegedly stealing N90,000 from a 38-year-old sex worker after engaging her in sex for a fee in a hotel in Lagos State, western Nigeria.
Abia state-born Uche Okpara paid an Edo State-born Caroline Ibrahim N5,00 for sex for a night popularly called TDB (till day break) in her room.
According to Ibrahim, after she and Okpara had marathon sex all through the night, she became weak and slept off.
She alleged that when she woke up, Okpara had disappeared with the N90,000 she kept in a bag.
The incident happened on 30 December, 2015 at a popular guest house at Aborishade street, Lawanson in Lagos where Ibrahim operates as a commercial sex worker.
The matter was reported to the police at Itire division and Okpara was arrested and charged to court with stealing under the criminal code.
According to Ibrahim, Okpara was the last client she intended to have before travelling to her village.
She said she had hoped to use the stolen money to start another business and foreclose her prostitution job and settle down to marry.
Okpara had gone into hiding after he allegedly stole the money until recently when the police trailed and arrested him and charged him to court on Tuesday.
Okpara admitted that he engaged Ibrahim in sex but denied that he stole her money as she claimed.
But he did not explain why he left the room in the middle of the night without informing Ibrahim.
He pleaded not guilty when he was arraigned in court.
The presiding Magistrate, Mrs. A.K. Shonubi granted Okpara bail in the sum of N20,000 with one surety in like sum.
Okpara was remanded in prison custody at Kirikiri pending when he will perfect his bail.
The matter was adjourned till 18 January, 2016 for trial.

Load more