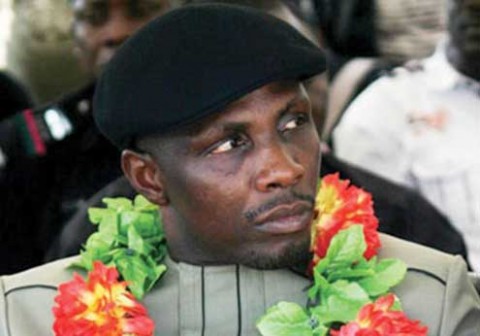 Ijaw Youth Council (IYC) kinsmen of a former rebel leader, Government Ekpemupolo popularly known as Tompolo has warned the federal government led by President Muhammadu Buhari against conducting a witch-hunt after Tompolo was charged with theft and money laundering.
A federal high court in Lagos last week ordered the arrest of Tompolo on accusations that he stole more than $175 million (161 million euros) between 2012 and last year.
The ex-militant, is one of the most high-profile former militant leaders of the Movement for the Emancipation of the Niger Delta (MEND).
The group attacked oil and gas facilities in the 2000s as part of a campaign to secure a fairer share of crude revenue for the delta region until a government amnesty was introduced in 2009.
But the Ijaw Youth Council (IYC) said the prosecution of Tompolo as part of Buhari's wider anti-corruption drive was singling out their ethnic group.
"Our position is that due process should be followed. We support an anti-corruption war that is done within the ambit of the law," IYC spokesman Eric Omare told AFP.
"We seriously oppose selective prosecution and political victimisation."
A number of leading figures in the main opposition Peoples Democratic Party (PDP) of former president Goodluck Jonathan have been arrested and charged with graft in recent months.
The PDP has accused Buhari and his ruling All Progressives Congress (APC) of settling political scores, potentially stoking tensions in a country where violence flares easily.
Since Jonathan is also an Ijaw, Buhari — already dealing with the Boko Haram insurgency in the northeast — has to tread a fine line to avoid a fresh flare-up of unrest in the volatile delta region.
– Tribal witch-hunt? –
Indications of rising tensions there have already emerged. Supporters of Tompolo are widely believed to have sabotaged oil and gas pipelines in Delta state last weekend after he was charged.
The IYC said it condemned such vandalism but also claimed that the military had invaded several Ijaw communities in Delta state, destroying properties and causing injuries.
"The Ijaw people are not at war with the federal government. We call on the military to exercise restraint in their actions. There is no basis to attack innocent villagers," said Omare.
Another former militant leader, Ramsey Mukoro, added: "None of us is happy with what is happening to Tompolo and other Ijaw people who served under Jonathan. It is a tribal witch-hunt."
Many former rebels, including Tompolo, went on to secure lucrative government contracts protecting oil and gas pipelines and facilities after the amnesty was introduced.
The charges against him relate to his work with the Nigerian Maritime Administration and Safety Agency (NIMASA), whose remit includes maritime security.
Alagoa Morris, from the Odenwari community in the Southern Ijaw region of Bayelsa state, said that prosecuting Tompolo and others could "influence people to disobey lawful orders".
Ebi Hitler, an Ijaw resident in the Bayelsa state capital Yenagoa, also warned of a return to insecurity, which severely dented Nigeria's crude output at the height of the troubles.
"What is currently going on is not prosection but persecution of Ijaws. It is very provocative and the government should realise that there is a limit to everything," he added.

Load more