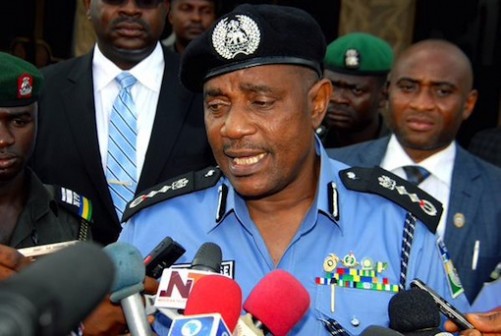 The Inspector General of Police, Solomon Arase has warned members of the Indigenous People of Biafra (IPOB) against bearing unauthorised firearms.
In a statement issued by Olabisi Kolawole, the IGP said that: "The attention of the Nigeria Police Force has been drawn to a publication credited to the Indigenous People of Biafra "to carry guns in self defence".
"The Inspector-General of Police has sternly warned members of the IPOB to reconsider their stand or face the wrath of the extant laws on bearing of firearms," the statement read.
It noted that the IGP warns that anybody who dares security agencies in the discharge of their constitutional responsibilities, and make life difficult for law abiding citizens, will face dare consequences of their actions.
He then cautioned IPOB members to follow appropriate avenues in ventilating their grievances as anybody who steps out of bounds will be decisively dealt with.
"Members of the group should therefore note that it is an offence punishable under the criminal Law of the Federation of Nigeria for a person to have in his possession or under his control any prohibited firearms without licence or permit."
"The IPOB are advised to be guided in respect of the above as the Police Force is poised to uphold the existing restriction over the use of firearms."
Meanwhile, all Zonal AIGs and State Commands CPs have been directed to strictly enforce the laws against the use of illegal firearms across the length and breadth of the country.
The Inspector-General of Police has assured that the Nigeria Police Force, complemented by other security agencies in the country, will tirelessly and assiduously work towards eliminating any threat to internal security and social disorder. He has reassured Nigerians of his commitment to their safety and security.
Load more