"Despotism can only exist in darkness, and there are too many lights now in the political firmament to permit it to remain anywhere, as it has heretofore done, almost everywhere" – James Madison (4th US President 1751-1836)
"We cannot drive the wagon into the future without retrogressing to the past" – Prof. Alexia Thomas
"The free man cannot be long an ignorant man" – William McKinley
Chairman of The Commonwealth Liberation Party, TCLP, Prof. Alexia Thomas, has taken a swipe at the British government over what she termed as inhuman activities perpetrated by officials of the government against helpless Commonwealth citizens.
She named the British Immigration and other such law enforcement agencies as culpable in the silent killing of citizens from Commonwealth. These killed citizens, according to her, are buried in unmarked graves.
The rights activist also accused the police in the country of illegally detaining people in their cells against their rights.
In a petition she wrote and copied all top officials of government as well as the office of the Queen, Professor Thomas said Sir Bernard Hogan-Howe, the Commissioner of Police, New Scotland Yard could be stripped off his honour for allowing injustice on the citizens of the nations of Commonwealth.
"Mr. Commissioner, your office cannot be in denial of the death toll of Commonwealth citizens. The British Immigration officers have been destructive as their views of the Commonwealth citizens are human bugs…" She said.
In the letter dated 26 February, 2016, Thomas alleged that sir Hogan-Howe, has made no effort to inform the families of the deceased of their children assailants.
"Deaths in the detention centres comes to the attention of the police before the bodies are taken to the morgue; the police called to the scene and yet dead victims are denied autopsy and your office knows these deaths are homicides and still under covert operations, these deaths are covered.
"The UK Government steals Commonwealth nations' natural resources, control their economy, destabilise their currency, fail to give them independence, but instead gave them sovereignty.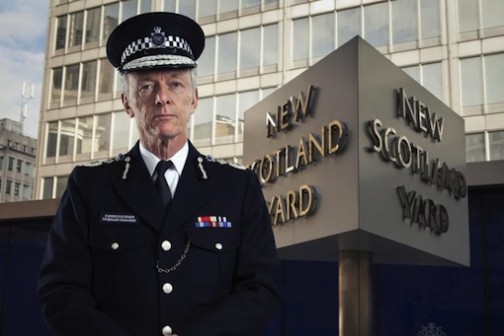 "Mr. Commissioner, Mr. Cameron instigates Immigration Officers to kill Commonwealth citizens just as his ancestors in the past stole from the Caribbean's by forcing their settlement in Grange Sugar Estate in Jamaica without a residence permit, only an Outlaw bandit exhibit such qualities.
"Why must Immigration officers be appraised as Bounty Hunters? British Immigration officers commit heinous crimes against these coloured people, yet there has been no probe, sack, charges and termination of personnels of these immigration storm troopers. Mr. Cameron applauds evil against humanity preparing his unconscious destruction for the British people," part of the letter said.
She said for the purpose of truth, justice, fairness and posterity, Hogan-Howe must open historical and current cases of homicides while wondering why immigration officers daily break into people's homes with fake warrants,destroy properties, vandalise homes, arrest, harass and even kidnap people at train and bus stations.
The letter accused Britain of still regarding Commonwealth citizens as slaves saying this had encouraged the immigration officers to cover up over 5,000 deaths caused by them.
She warned that the British government could lose its respect if such inhuman activities are not urgently checked.
Here's Prof Alexia's position:
Why Commissioner of Police must open up on historical & current cases of homicide
For the purpose of truth, justice, fairness and posterity, Professor Thomas brings to the attention of Sir Bernard Hogan-Howe the need to open historical and current cases of homicides. She said: "Mr. Commissioner, your office must open historical and current cases of homicide as judgement must prevail, hence no man is above the law.
"Failure to open these investigations becomes evidential race superiority complex is a sicken trait, therefore Britain rather be an Island of its own, so Commonwealth nations must not be cheated in a white man's deceit to steal their Gold and give them rubbles.
Copied Queen Elizabeth II, Prince of Wales, Prime Minister, Buckingham Police Dept, Parliament; House of Commons, Foreign & Commonwealth Office
In a letter also copied to Queen Elizabeth II, Prince of Wales, Prime Minister, Buckingham Police Dept, Parliament; House of Commons, Foreign and Commonwealth Office in a bid to bring to their attention all salient issues raised, Professor Thomas said: "The police should stop the immigration officers commissioned as Cameron's stormtroopers to stop killing the Commonwealth citizens and to stop destroying their values as they are not the British peoples' problem but instead the British are their own muggers because they cannot survive without the Commonwealth countries.
"Sir Bernard Hogan-Howe, as a law graduate, I would have expected that you challenge the obscenity of Cameron's government, rather you will see it has nothing to do with you and you refuse to expose the atrocities committed against the citizens of Commonwealth. Your officers must check themselves, they have failed their strangers unequivocally and your land, their settlement.
"The whole British Police Force needs serious overhauling of their institution as their criminality has brought dis-reputation to law integrity. You have soaked yourself in political mud of corruption. The British Police as a Force now confraternized and using deceit diplomacy to imprison people .
"The world will not be destroyed by those who do evil, but by those who watch them without doing anything" – Albert Einstein
"Where justice is denied, where poverty is enforced, where ignorance prevails, and where one class is made to feel that society is an organized conspiracy to oppress, rob and degrade them, neither persons nor property will be safe" – Frederick Douglas
"If a law is unjust, a man is not only right to disobey it, he is obligated to do so" – Thomas Jefferson
"Courage is what it takes to stand up and speak; courage is also what it takes to sit down and listen" 

– 

Winston Churchill

Load more