"Any loss of identity prompts people to seek reassurance and rediscovery of themselves by testing, even by violence. Today, the electronic revolution, the wired planet and the information environment involve everybody in everybody to the point of individual extinction" – Marshal McLuhan
"You cannot escape the responsibility of tomorrow by evading it today" – Abraham Lincoln
"Freedom can never be absolute because it must be consistent with the freedom of others" – Eleanor Roosevelt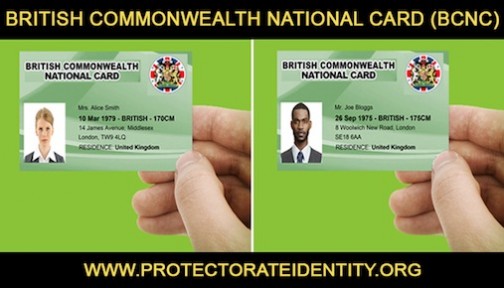 The Commonwealth Liberation Party, TCLP, in the United Kingdom has unveiled the British Commonwealth National Card, BCNC, in London.
This is aimed at giving advantage to Commonwealth citizens from the 54 nations and would help them have the British citizenship enhancement status, protection from unlawful arrest, harassment, unlimited travel restriction in Britain and her territories.
It would also help them possess rights as residence in the UK especially as it is backed by the Universal Declaration of Human Rights, UDHR, 1948.
The Protectorate Identity Commission, an agency of the TCLP, said one benefit in being a holder of the card include protection of identities of the commonwealth citizens and their rights of recognition in the sustenance of economic relations.
"The protectorate is a new face in the culture of biometric credentials to assist in the identification of commonwealth citizens in the integration of information technology of the 21st century identity act," part of the benefits reads.
Professor Alexia Thomas, Chairman of the party, who doubles as President of the Commonwealth Treaty Alliance Commission, said: "54 sovereignties have been brought together under a treaty enforceable by the UDHR 1948.
"The future of greatness is the protection of human race, human values, human dignity, brotherhood bond and the upholdment of citizens' equal rights, legal compromise, alienation of hate crimes with upholdment of respect for social values and social integration.
She said those with the cards are by law allowed to have equal rights and equal values and are to be accorded same privileges with nationals in their respective countries of residence.
"The BCN card serves as identity for the card holder to be able to travel within the axis of the commonwealth nations, while the office of the Commissioner for Governance and the office the Commissioner for Diplomacy will also be in negotiations with non-Commonwealth countries and their governments to accord recognition to the BCN cards.
"The BCN card has met the threshold and stems autocracy of social integration and a plugin of purity of laws. All ordinance of government and power ambit must accept the BCN card under the UDHR convention 1948.
"The failure to protocol observance leading to the denial of the rights of commonwealth citizens to free travel within the alliance nations jurisdictional boundary becomes a violation of the United Nations government coalition.
"The commonwealth citizens have legitimate rights to call themselves British citizens for their acceptance of integration," she added.
A copy of the BCN card online can be obtained through www.theidc.org.uk/packages.

Load more