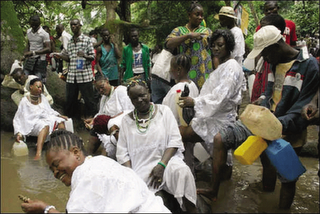 Osogbo, the Osun capital is agog for the grand finale of the annual Osun Osogbo festival.
NAN correspondent monitoring events in Osogbo reports on Friday that various socio- economic and traditional activities are at their peak to usher in a hitch-free festival recognised by UNESCO.
Decorations adorn the length and breadth of the Osun-Osogbo grove with traditional worshipers offering prayers for a successful and hitch-free festival.
Several tourists, who had thronged the ancient town to witness the annual festival, were seen at the stream and within the grove taking pictures in front and beside the statues and structures, symbolic of the Osun goddess.
Others were seen filling plastic bottles and kegs with water from the Osun stream.
Security personnel, comprising of officers and men of the Police, Nigeria Security and Civil Defence Corps, the Federal Road Safety Commission were also present to ensure security at the event.
They were complemented by members of the Product People's Congress who were stationed at strategic locations to provide security during the festival.
Armoured Personnel Carriers (APCs) were also stationed at the entrance and inside the Osun-Osogbo grove to provide additional and back up security to security officers on ground.
Traders and residents of Osogbo took advantage of the festival to display their wares while food vendors, souvenir sellers, photographers among others, made brisk business.
Officers of the FRSC were stationed at street junction in the town controlling traffic to ensure smooth vehicular movement.
According to history, the Osun festival, started over 700 years ago when a group of settlers, led by Olutimehin, a renowned hunter, settled at the bank of the river to escape famine in his former dwelling place.
Osun, the water goddess, was said to have appeared to Olutimehin and requested him and his group to move up to higher ground to the present location of Osogbo.
Osun revealed herself as the goddess of the grove and of the river and pledged to protect the group as well as make women fruitful on the ground that they would offer her annual sacrifice to her in return.
The group agreed and vowed to sacrifice annually to the goddess if she would honour her vows.
Historians believe that the annual sacrifice had gone beyond offering sacrifices to a river goddess; it has become an international celebration of cultural events attracting thousands of people from all over the world.

Load more