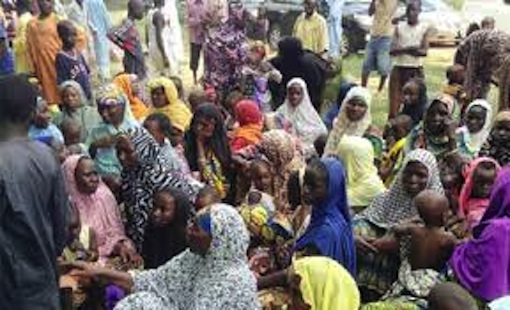 The International Organisation for Migration (IOM), Nigeria, has distributed 3,000 non-food relief item (NFI) kits to internally displaced people (IDPs) in Banki, Borno, to alleviate their suffering, an official has said.
The IOM's Chief of Mission in Nigeria, Ms Enira Krdzalic, said in a statement in Abuja on Tuesday that the gesture was jointly carried out by IOM Nigeria and Cameroon.
Krdzalic said the measure was part of the organisation's "humanitarian efforts to alleviate the suffering of families displaced by the violence in Northeast Nigeria".
"IOM Nigeria and IOM Cameroon in a joint operation distributed 3,000 non-food relief item (NFI) kits to internally displaced people (IDPs) in the Nigerian border town of Banki from 23-24 August 2016."
Banki, which shares borders with Cameroon, is located in Bama Local Government Area of Borno and was once a vibrant trade hub between Nigeria and Cameroon before the insurgency.
Krdzalic quoted the Head of Office of IOM in Cameroon, Roger Evina, as stressing the need for such collaborations to address the plight of the IDPs.
"Despite the daunting security and logistical challenges, IOM Cameroon is determined to support IOM Nigeria to reach an affected population that is in dire need of humanitarian assistance," Evina said.
Krdzalic listed mosquito nets, sleeping mats, laundry and bathing soaps, jerry-cans, sanitary pads and water purification tabs as part of the items donated to the IDPs.
She said the project was funded by the European Commission Humanitarian Aid and Civil Protection Department (ECHO) and the UN Central Emergency Response Fund (CERF) in Nigeria.
Krdzalic said IOM Nigeria with funding from ECHO and CERF also provided emergency shelters for about 6,800 people in recently liberated Bama and Gwoza local government areas of Borno.
She stressed the need for continuous support for the displaced population.
Krdzalic said, "IOM remains committed to supporting the government of Nigeria in ensuring that the plight of the IDPs is alleviated."
She said successful distribution in Banki was closely coordinated with Nigeria's National Emergency Management Agency (NEMA) and the Nigerian and Cameroonian authorities.
Krdzalic, however, called for more aid for IDPs as the 26,000 population, including women, children and the elderly, was greater than expected.
"Strong cross-border coordination and cooperation in all Lake Chad Basin countries will remain key for continuing efficient and timely delivery of life-saving assistance to affected populations," she said.
Krdzalic said IOM had provided assistance to affected populations in the Lake Chad Basin region with the support of ECHO, CERF, WFP and the governments of the U.S., Italy, France, Germany and Japan.