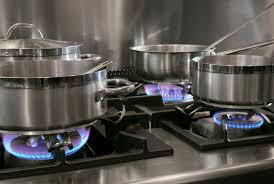 With the increasing price of kerosene and with the campaign against deforestation gaining more momentum across the country, Nigerians have been advised to embrace the use of gas for cooking.
The advantages of using gas to cook include energy efficiency, precise temperature control, immediate heating and cooling, lower operating cost and the ability to work without power.
The use of gas cookers has been proven to be the best alternative to electric cookers, fueled by LPG (butane or propane). Cooking gas is the way to go for those who want a clean and pleasant cooking experience, however, the numerous benefits of cooking gas over other forms of energy make it an attractive choice for homeowners.
According to James Atiti, co-founder Doowe Gas, an e-commerce startup that specializes in the door-to-door delivery of cooking gas, he said, "Using liquefied petroleum gas for cooking is becoming more economically viable and a cleaner choice that Nigerians should embrace."
Founded in 2016 with his partner Nnamdi Odiwe, Doowee Gas, Atiti said is positioned to be the next big energy company in delivering advanced technology, regular supply of cooking Gas, employment and adding value to the Nigerian energy market.
But for the founders of one of the latest entrants into the Nigerian e-commerce market, the need to fight environmental and health hazards is at the core of the company's marketing strategy.
To ensure this, the company said in a statement that it has invested in new technologies and precautionary safety measures.
"We have invested new technologies to mitigate against gas explosions, theft and unscrupulous malpractices in the industry in order to guarantee quality service delivery and overall cost savings," it said.
Atiti also stressed that using cooking gas gives room for energy efficiency, lower costs, low maintenance, it is dependable, it is durable and allows for cooking control.
-Funmilola Olukomaiya.
Load more