Nigeria and a Chinese state firm have signed a 23 billion dollar deal to build three refineries and a petrochemical complex in one of Africa's biggest tie ups with China, officials said Friday.
Nigerian National Petroleum Corporation (NNPC) and China State Construction Engineering Corporation Limited (CSCEC) sealed the deal in Abuja on Thursday, an official statement said.
China is already the number one investor in Africa — ranging from oil in Algeria to mines in Zambia — and a senior NNPC official told AFP the new deal might be the biggest that China has made in the continent.
Nigeria is in turn Africa's leading oil producer, but it has for more than a decade been importing refined petroleum products to meet local demand.
The two corporations will jointly seek financing and credits from the China Export & Credit Insurance Corporation and a consortium of Chinese banks for the projects in Nigeria, the NNPC statement said.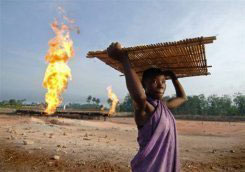 "NNPC aims to accelerate the construction of new refineries in Nigeria to stem the flood of imported refined products into the country, currently estimated at 10 billion dollars," the statement said.
CSCEC wants to "expand its presence on the African continent and establish its footprint firmly in the Nigerian oil and gas landscape," it added.
The new refineries are expected to add some 750,000 barrels per day capacity in Nigeria and position NNPC in the international trading of refined petroleum products, it said.
Nigeria's four refineries — with total capacity of 445,000 barrels per day — are using less than 30 percent of their installed capacity, according to official figures. Corruption and poor maintenance have undermined their performance.
"We are very excited about the deal. We thought it is the biggest ever in Africa, although I do not have the details yet," said the NNPC official who demanded anonymity.
President Goodluck Jonathan arrived Friday in Nigeria's oil capital of Port Harcourt for an official visit to inaugurate gas and oil projects.
The construction of the new refineries "will reinforce the ongoing oil and gas reforms in Nigeria", as envisaged in legislation which has been before the Nigerian parliament for almost a year and imminent deregulation of the downstream sector the country's oil industry, the NNPC statement said.
Anglo-Dutch oil group Shell in February criticised the bill, saying mistakes in it, if passed into law, will take years to correct.
Shell's vice president for Africa Ann Pickard has warned that the country could lose 50 billion dollars in investment in the next decade if the bill was passed in its current form.
Jonathan has promised to pursue government reforms of the oil sector to make it profitable and end corruption.
His nascent administration recently sacked some key oil industry officials and redeployed others as part of the promised reform.
He has promised to give new impetus to an unconditional amnesty granted last year to thousands of ex-militants in oil-rich Niger Delta in order to bring peace to the region.
The training of more than 20,000 militants who surrendered their arms under the amnest deal begins next month, officials said.
The president of the Lagos Chamber of Commerce and Industry, Olufemi Deru, told AFP the establishment of the new refineries in Nigeria "will provide jobs for thousands of Nigerians and give them technical knowledge."
"It will save the country millions of dollars spent on importation of refined petroleum products as well as give the country a sense of national pride that Nigeria produces and refines its oil locally," he stated.
Load more