An employment tribunal in London yesterday heard how a Nigerian woman, Peace Sandberg, bought a three-month old Nigerian baby boy for 150 pounds (N39,000).
Sandberg, a former housing officer allegedly came to Nigeria with 150 pounds and bought a three-month old Nigerian boy in order to secure a council flat in London.
A divorcee, Sandberg was said to have gained the right to live and work in the UK through her Swedish husband, Kenneth.
She was arrested yesterday after she sneaked into London to try to claim thousands of pounds from her former employers, claiming race and sex discrimination.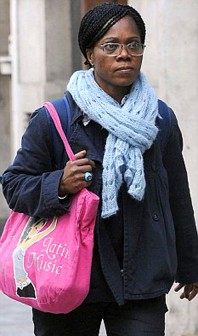 Within hours of landing at Heathrow Airport, she took the baby to Ealing Council's homeless housing office. As a housing worker herself, she knew that women with children are given priority on council accommodation lists.
Annie Assim, a Homeless Persons Officer, told the court: "I was told she was in reception with a baby. I was surprised as I knew she did not have a baby. I saw her with a newborn and asked whose it was and she told me it was hers. I told her I did not see her pregnant the month before."
Sandberg was jailed for 26 months at Isleworth Crown Court after being found guilty of facilitating illegal entry into the UK. Police had wanted to prosecute her for child trafficking, but this was not possible due to a legal technicality.
Judge Sam Kathkuda told Sandberg: "You deliberately and fraudulently trafficked this child into the country. You are a person who is manipulative and a stranger to the truth. You have a pattern of deliberately telling lies."
Sandberg denied any wrongdoing, claiming she had adopted her cousin's orphaned son to give him a better life in Britain.
She also insisted she took the £150 to Nigeria simply to help care for him while she was out there.
However, those trying the case took just 40 minutes to unanimously decide she was lying and convict her of one count of child trafficking.
To begin with, she remained impassive as Judge Sam Kathkuda told her it was clear she had lied repeatedly during the "pre-planned and pre-meditated" operation to breach Britain's immigration laws.
The evidence also showed she had played on the sympathy of British High Commission staff in Nigeria by turning up early for her appointment, appearing "hysterical" and thereby avoiding the usual visa application interview.
"The question the prosecution counsel put to the jury was whether they were sure you had lied in order to being that child into the country.
At this point Sandberg burst into tears, insisting: "I am not a liar. I have never told a lie in my life…I have done nothing wrong."
After explaining immediate imprisonment was inevitable, the judge added: "Your deportation I leave to the Home Office."
Outside court, Detective Inspector Gordon Valentine, of the joint police and immigration service Paladin team, which investigates child trafficking and exploitation, welcomed the sentence.
"This is the first case I am aware of where a child has been smuggled into Britain to get a free home."
He said although the matter had not been tested in court there was clear "circumstantial evidence" to suggest she paid money for the child.
"It is quite shocking what she did. She took this child from its home environment and brought it here with the sole intention of exploiting him for benefits."
"It shows her callousness in exploiting an innocent child purely for her own benefit without considering the child's future in any way whatsoever.
"It now seems that child is going to grow up knowing nothing of his identity, where he has come from or even who his real parents are."
Load more