Pascal Anomneze of 318, Ijegun Road Obalagbe outskirt of Lagos stunned Ejigbo Magistrate's Court presided by S.O. Solebo when he admitted that he had been involved in several rapes cases including raping a nine month pregnant woman.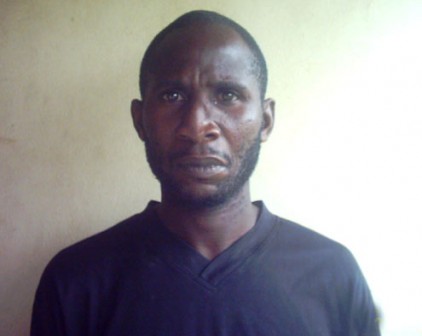 The 38-year old Pascal, who said he has been raping women for the past 15 years, has been facing a four-count charge of rape against the pregnant victim (name withheld) after he sneaked into her apartment with a knife and threatened to kill her if she refused him sex.
The checks in the court record by the prosecutor, Kunle Shonibare revealed that apart from raping the pregnant woman, he had two other rape cases he is facing. He had allegedly raped a 45-year old woman and a 7-year old girl for which he is facing trial.
He was again brought to court for allegedly raping a 10-year old girl at an uncompleted building in the area.
He was alleged to have taken the girl from her mom's shop to the uncompleted building where he raped her from 7 p.m till 6 a.m. the next day.
According to the victim, he took her to the place and threatened her with a dagger that he will kill her if she made any noise and ordered her to remove her pant and he had sex with her throughout the night.
This resulted in the girl bleeding but the accused took her to a church gate and left her in that condition.
The parents, who had been searching for her throughout the night and reported to the police later found her and took her to Igando General Hospital where she is being treated.
Pascal Anomneze was later arrested by the police and charged to court where he made the confessional statement that he has been a rapist.
When the charges were read to him, he pleaded guilty to the two count charge.
The prosecutor presented the facts of the matter before the court which he confirmed and refused to make any plea for leniency.
The magistrate found him guilty as charged and subsequently sentenced him to 7 years imprisonment while the case of the pregnant woman is still pending in the court.
Speaking with P.M.NEWS outside the court after he was convicted, Pascal confessed that he had raped several women in the past 15 years because that is the only way he could satisfy his sexual desire.
He claimed that normal sex with women does not satisfy his sexual urge and that was why he has been raping women.
He said that he learnt the habit in Ghana with his friends before coming back to Nigeria with his parents.
"In Ghana there was a free life and at a time normal sex with women became unsatisfactory so we started looking for ways to satisfy our sexual desire," he said.
He confessed that it has become part of his life and that he does not know how to control it.
"This is a problem, I have gone to several churches to get out of this but it has not worked and my parents have abandoned me because of this mess," he lamented.
He denied that he belongs to any secret cult or that he is a drug addict and prayed to God to get him out of the habit.
"I am not a cult man or armed robber, neither do I take drug. Yes, I drink but I know this rape thing may stop after serving my jail term," he said.
Load more