Elijah Onosemuode's favourite memory of cheering Nigeria's national soccer team came in 2007 in Victoria during the U-20 World Cup when he was the "chief trumpeter" of the Nigerian supporters club.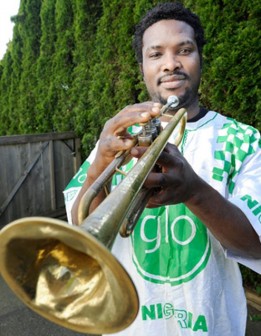 "The fans there acknowledged the trumpets and the carnival spirit. They said they had never experienced something like that before," said the 34 year-old native of Warri, Nigeria, a major port city on the Niger Delta.
While Nigeria lost in the quarter-finals it was a special way for Onosemuode to adjust to his new home in Canada after obtaining refugee status earlier that year.
The Surrey resident said soccer is a unifying force in Nigeria, a country that is divided along religious and ethnic lines. That's why, when he was a teenager, he combined his passions for music and soccer and joined the Super Eagles supporters club as a trumpeter.
"When Nigerians are playing soccer you see people old and young, everybody together. You see Muslims laughing with Christians, everybody is one. You don't see tribalism or biased minds. But after soccer — the biased mind — they have it again," he said.
It's this force that provides the background for understanding just how important South Africa 2010 will be for Nigeria as a country.
There is no doubt the talent is there to succeed. The Super Eagles have several Premier League players including defenders Joseph Yobo of Everton and Danny Shittu of Bolton, midfielder Mikel John Obi of Chelsea, and strikers Nwankwo Kanu of Portsmouth and Yakubu Aiyegbeni of Everton.
The team punched their ticket for South Africa after going undefeated in qualifying matches, although they still needed their last match (a 3-2 win over Kenya) in the final round to narrowly defeat Tunisia in the standings.
"The World Cup isn't for boys, it's for men. So any team that have made it means they have passed through a lot of hell. Let us cross our fingers and hope for the best," he said. And hope they will.
The Nigerian Football Federation, NFF, has stated that a semifinal appearance is expected from newly appointed coach Lars Lagerback of Sweden. Nigeria canned its former coach Shaibu Amodu in a controversial move in late February after finishing third in the 2010 African Nations Cup In Angola. Lagerback is Nigeria's twelfth coach in as many years. "I didn't support them going for Lagerback now. The time is really short for him to pull it together," Onosemuode said.
According to Joe Ehizode, 47, a former Nigerian sports journalist now living in Surrey, the way the federation handled the coaching change is nothing new.
"The problem is not that they don't have the talent. The problem is the organisation. We're not lacking in the quality of players but rather in the administration," said Ehizode, explaining why Nigeria has never advanced to a World Cup quarter-final match despite routinely high FIFA rankings, particularly in the mid-1990s when it won Olympic gold in 1996 and the 1994 African Nations Cup.
Both Ehizode and Onosemuode said when Nigeria doesn't succeed in a major tournament it's usually the coach who is blamed because passionate and impatient fans demand answers.
Load more