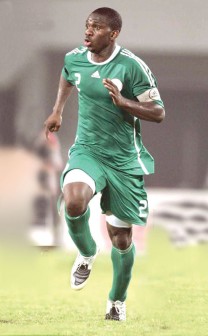 As the battle for who makes the final 23-man list of the Super Eagles for the South Africa 2010 FIFA World Cup hots up, assistant captain of the team, Joseph Yobo, says he is not afraid to fight for a shirt in the team
Everton F C of England's defender is part of the 30-man provisional list drawn up by the Sweden-born tactician, Lars Lagerback, and he has declared that going to the mundial, holding for the first time in Africa, is not a matter of life and death.
Yobo, who just returned to action for his club after a long injury layoff, said though he would like to be part of the Nigerian team to the World Cup for a second time in a row after playing at the Korea/Japan 2002 World, said he is not losing sleep over his chances of making the final 23-man list but he is ready to prove his worth to the technical crew of the team in the friendly matches lined up for the Eagles ahead of the World Cup.
According to him, "it is the dream of every footballer to play at the World Cup, but for me I'm not seeing it as a do-or-die affair. My concern is to go to the camp and do my best. It is now left for the coaches to decide if I would be part of the team to the world."
Meanwhile,  Real Zaragoza of Spain's Ikechukwu Uche, who is also coming off injury, has said he is glad to be back in the team after missing out of the Angola 2010 African Cup of Nations.
The former Getafe of Spain forward disclosed that featuring in Nigeria's colours in the World Cup, which kicks off on 11 June, would be a dream come true for him, adding that he is ready to battle other attackers in the Eagles for a shirt for the mundial.
"It is good to be back. The next thing on the agenda for me is to fight for a place in the final 23-man list to the World Cup.  I'm not worried about the other players who are also contesting for a place in the Eagles; my target is to be part of Nigeria's ambassadors at the World Cup," he enthused.
—Adebobola  Alawode
Load more