Former president, Chief Olusegun Obasanjo, has been visiting the presidential lounge of the Murtala Muhammed Airport in Ikeja, Lagos, without the fanfare and celebration he once enjoyed while he was the Head of State.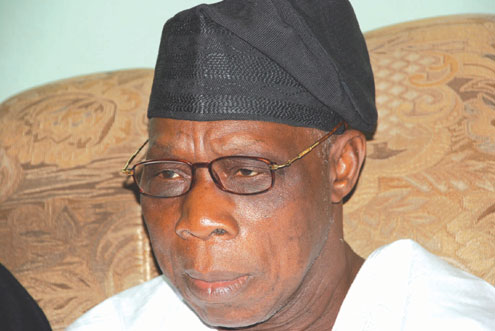 As a president who hailed from Ogun State, the former president spent most of his weekends in Ota, his home town.
Mr. Deba Uwadiae, an aviation correspondent at the Lagos Airport recalled that the former president visited the lounge twice a week while on his way to Ota.
"He usually arrived on Fridays but on some occasions, he would come from Abuja on Wednesday, he would go back the same day or the next and come back on Friday for his usual weekend," Uwadiae, who is now the Editor-In-Chief of Business Travel, an aviation publication, told our correspondent in Lagos.
Obasanjo was sworn-in as president on 29 May 1999, just a year after the death of former Nigerian maximum military ruler, General Sani Abacha, who passed away on 8 June 1998.
Abacha, a secluded dictator who never visited Lagos, was replaced by General Abdulsalam  Abubakar, only a day after his death amidst jubilation.
"Abacha never visited Lagos when he was head of state. But there was a day he was supposed to come. That was in 1996. Marwa was the military governor of Lagos State then. Marwa had planned a big reception for Abacha here at the lounge.
"This whole place was filled with traditional rulers, dancers and soldiers. There were also a lot of other people. I was also there. But after about six hours of waiting, information filtered in that Abacha will not come again and that was the only time he really made an attempt of coming down here," Deba recalls.
"After Abacha's death and the take over by Abdulsalam, we sometimes talked to Mike Akhigbe, who was then the second in command. He was coming to Lagos regularly but he hardly talked."
When Obasanjo, a southerner became president, Deba recalls, the Lagos presidential lounge came back to life.
"Fortunately, Obasanjo happened to come from the south and during the eight years he was president, there were many activities taking place here.  Even when Obasanjo was not coming, some top politicians would come around and visit him in Ota  and there were also a lot of international dignitaries who came around regularly.
"I can tell you that it was one activity after another. Some visitors used to tell us that they were businessmen from other African countries or countries outside Africa.
"But after those eight years, it is as if this place doesn't exist anymore. It is as if everything that happened during the last years did not take place.
"Everything became dry. I can tell you that each time Obasanjo was coming, he was always celebrated  just as when he was going back to Abuja. There were politicians with their aides, many dancers, traditional rulers and all kinds of people and security operatives; this whole empty place was jam-packed.
"Most times, Obasanjo will not talk to us, he gets off his presidential jet and from the tarmac boards a helicopter, except when he arrived in the night because you can't travel on a helicopter in the night. There were always two helicopters, one, on which he will travel to Ota, and the other one conveys his aides.
"Oh my God, if you see this place then, there were policemen all over the place. One man who was always coming here was Bode George.
"In fact, each time we saw Bode George around here, we knew that Obasanjo was coming to Lagos or leaving for Abuja.
"But since Obasanjo left office, even when he comes back, there are only two or three people with him. There are no aides, no Bode George, only a few security details," Deba says.
The ascension of Yar'Adua and Goodluck Jonathan to power only compounded the situation at the Lagos airport with journalists waiting endlessly for politicians to show up.
—Simon Ateba
Load more