Lagos-based evangelist, Prophet Joshua Adeboboye, has revealed that it was the yoke placed on the late President Umar Musa Yar'Adua by his predecessor, Olusegun Obasanjo, that killed him.
Speaking with P.M.NEWS, Adeboboye said shortly after the 2003 general elections, there was a vision that ex-president Olusegun Obasanjo should carry out a natural spiritual rebirth to cleanse the country of its conglomerate of problems which he vehemently refused to carry out.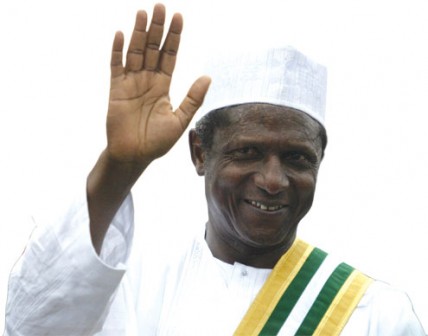 He said that it was this yoke that was transferred to the late Yar'Adua as the new president after the 2007 general elections and eventually killed him because he also refused to carry out the natural spiritual rebirth.
"The death of Yar'Adua is symbolic in the sense that God Almighty is the Great Elohim and when He says He is going to do something, nobody is going to stop Him.
"Obasanjo's eight years tenure went down the drain because of his disobedience to God to carry out the exercise. So, this now become a yoke on his neck and shoulder. After the 2007 election, the soul of this country was hijacked by powers and principalities and Obasanjo craftily put this yoke on Yar'Adua's neck.
"Since 2007, the word of God was sent to the presidency many times concerning what is the divine way, plan and purpose for this great nation, called Nigeria, but nobody pays any attention to it," he said.
The cleric said he was frightened by the late Yar'Adua's death "because of what God is about to do for this country.
According to him, "since 10 years ago, I have been a lone prophetic voice in the wilderness of Nigeria, crusading this word that God Almighy had given me to upturn the captivity of our great nation for God said Nigeria shall be a superpower.
"In January, after seven days of prayers and fasting, the holy spirit brought this vision again to my mind and God said to me that enough is enough on the delay of the spiritual natural rebirth," he said.
He said the natural rebirth is nothing but the re-engineering of the spirit and mind of all Nigerians, leadership in particular, as commanded by God, adding that it is the only enduring, lasting solution from God to eradicate all the conglomerate of problems and crisis in the country.
—Jamiu Yisa
Load more