Nigerian militants in the volatile oil hub of the Niger Delta arrive by boat to surrender arms in Port Harcourt in 2009 Militants in oil rich southern Nigeria who last year laid down arms under an amnesty deal on Wednesday pledged to back new leader Goodluck Jonathan to ensure peace holds in the Niger Delta.
Some 20,000 former armed rebels who were fighting for a fairer share of oil revenues to go to local communities, took up the amnesty offer extended by late leader Umaru Yar'Adua last October.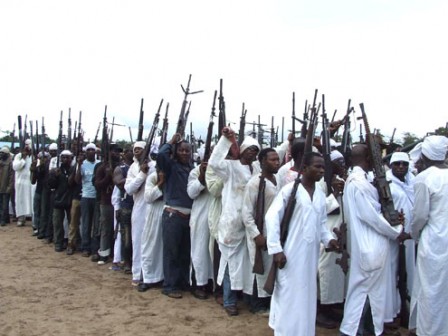 "Now that the person who is at the helm of affairs is one of our own, we have no choice but to support and consolidate on what we started with President Yar'Adua," said militants spokesman, Chris Ekiyor.
Yar'Adua fell seriously ill less than two months after the amnesty took effect last year.His prolonged illness stalled the implementation of the post amnesty plans such as education and provision of jobs.
Jonathan, his successor, is a native of the Niger Delta
."There is total peace in the Niger Delta now. The President can go to sleep…he has everybody supporting the process of national unity," Ekiyor, a leader of the Ijaw Youth Council, a Niger Delta ethnic lobbyist group said.
Ekiyor spoke at a meeting attended by dozens of prominent ex-rebel leaders.The talks had been called by the government ahead of training sessions for the former militants set to start in June.
The ex-fighters will receive vocational training in various fields as well as seminars on various aspects of life with a view to changing their orientation and world view, to ease their eventual re-integration into society.
Load more