His eyes closed, he is in full concentration. This is the most important moment in his career. Innocent Anyanwu could have been a hero on Sunday afternoon: European Champion in the category Super Featherweight (EBA).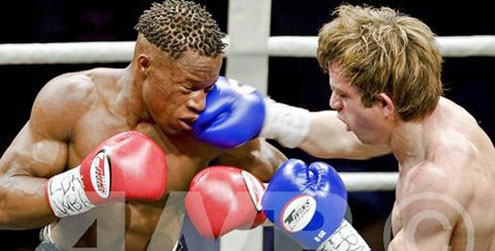 The small Nigerian, 58 kilos, makes his entrance in the boxing ring. The Dutch national anthem blares through the Hilversum Dudok Arena.
After 22 fights, he is still unbeaten. Now he's standing in front of the experienced Portuguese Antonio Joao Bento (33), 21 fights unbeaten. Innocent (27), wearing re boxing gloves, dribbles around Bento. His extreme focus gives an indication of his determination.
The Dutch boxing world believes hard in him to become the new pride of a nation. This man should be the first Dutchman in fifteen years to become an European Champion on his own soil.
Innocent kicks, dodges and kicks again. He's aggressive, dangerous. He dominates the game. The audience shouts with joy. He's got 12 rounds of 3 minutes to beat the Portuguese.
Sitting at the edge of their seats, Innocent's wife and son are here to support him. The Nigerian boxer got his Dutch passport in 2009.
He left his village in Nigeria when he was 16, in search of adventure and better chances. He ended up as an illegal immigrant in the United States and later on in the Netherlands where he started boxing.
He says Mike Tyson is his big hero. He's a rising star. He's a fighter. This is the moment where he has been dreaming of for many years.
The fight intensifies. The Portuguese has more and more kicks to bear. But Bento seems to be made of stone. Sweat is splashing all over the place. Innocent continues his attacks. Will he be tired?
Suddenly, he receives a huge blow on his eye. Innocent is on the ground. 1, 2, 3, 4, 5, 6, 7, 8…
He rises to his feet. Bento is waiting for him. The fight goes on. Bento drives the small boxer in the corner of the ring and hits and keeps on hitting. Innocent can't protect his face any longer.
Music starts pounding in the arena. Dancing girls in very tiny clothes and beer offer entertainment. The muscled men in the hall feel disappointed. They expected more from Innocent.
Load more